Creating realistic visualizations of your designs has become an essential part of the architectural process. Clients need a strong preview of what's to be delivered, builders need an idea of how their work should come together, and your team needs a visual reference to ensure a completely harmonious design.

The trouble is that developing high-quality visualizations can be incredibly time consuming, at least if you're using traditional tools and methods. With today's best real-time rendering software, however, the entire process can be shrunk down to fast and easy output. Let's explore exactly how this powerful technology can help you produce unbeatable project imagery at speed.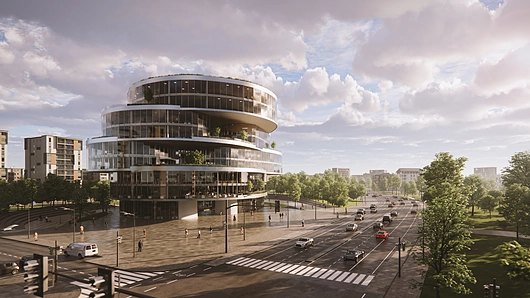 Renderings Produced on the Fly

Any architect who's used traditional rendering techniques knows that the process can be painfully slow. If you go the hand-drawn route for your visualizations, you can count on a significant time investment. And even if you opt for computer-based rendering, there can still be a lot of friction.

It often takes several hours just to generate digital visualization files, meaning that teams can lose entire workdays to simple preparation. Nevermind the work involved in actually hand-crafting the 3D models and imagery. Many rendering programs don't deliver the level of realism architects want in their visuals, resulting in either a disappointing compromise or a lot of painstaking post-work to be done in imagery enhancement programs like Photoshop.

With real-time rendering, the whole workflow gets streamlined and consolidated. This type of software establishes a live link between itself and your CAD program, allowing your visualization to automatically generate based on the CAD design.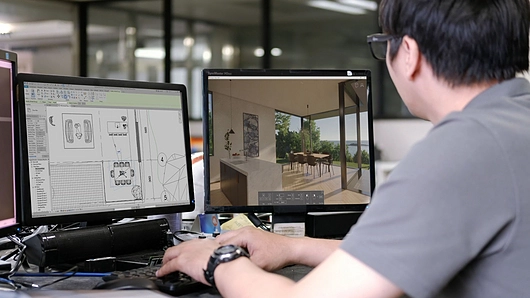 Any changes you make to your CAD model are reflected immediately in the rendered visual, hence the "real-time" moniker. This means that you can make updates to your design even whilst you're in the middle of presentations, allowing clients and stakeholders to get a look at changes without any delay.

The market's top programs also include advanced visual effects such as photorealistic atmosphere and lighting settings, as well as 3D assets such as buildings, foliage, and furniture. Being able to add all of these enhancements to your renderings in the same program further speeds up the workflow, ensuring that your team is able to pump out stunning imagery in minimal time.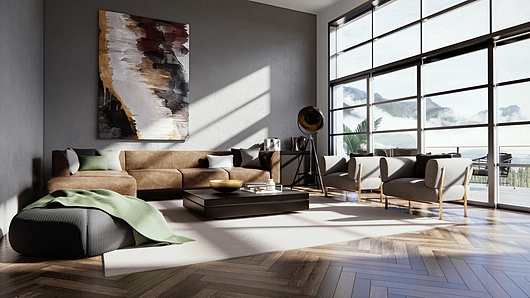 Quick Sharing and Collaboration

Especially these days, it's not always possible to share your visualizations in person. They must be sent to clients and collaborators remotely, meaning that streamlining the export process is a must.

The best real-time rendering softwares enable this with rapid file exports that don't require the receiver to own the software in order to open and run them. It's even possible for entire batches of visualization files to be sent together, allowing the receiver to easily access the full collection of design imagery (walkthroughs, panoramas, videos, still images, etc.).

Some programs, like Enscape, even allow for you to store "pinned" views that can be quickly accessed in the walkthrough's menu. This allows for people who are interacting with the walkthrough to quickly jump to important locations and perspectives within the design, instead of manually navigating their way there. For example, you can create stored views of different floors and rooms.

These features simplify the experience of sharing visualizations with project stakeholders, making it easier for everyone to see what's important - fast.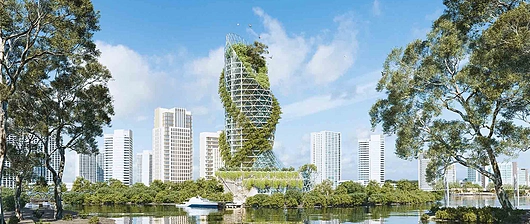 Rendered in Enscape by user Vo Minh Thoai

No Training Hurdles

When it comes to using visualization software, one of the biggest bottlenecks can occur with staff who have never before used the program. It can sometimes take weeks of training before team members can produce visualizations on their own.

But with the right software, training is no longer a concern. Some of today's leading programs have highly intuitive interfaces that allow anyone to start a rendering project right away. Enscape, for example, has been created with clear menus, organization, and gestural controls that feel second-nature to the user. And since the program is already linked to CAD, there's no need to tinker in order to get a visual that exactly matches the model.

Free Trial Version
Enscape offers a 14-day free trial. Visit and discover Enscape here.