The Lutron® Electronics EcoSystem® system is a lighting control system that is composed of digital fluorescent dimmer ballasts, LED drivers, controls and environmental sensors. Working together, these components can help save up to 60% on the use of electricity for lighting, increase space flexibility, comfort, and occupant productivity, and reduce maintenance costs.
The EcoSystem® system is designed for specialized spaces such as offices, classrooms and patient rooms, where lighting usually represents 38% of electricity consumption. Energy savings are achieved through personal controls, including wall-mounted keypads and infrared remote control transmitters, as well as environmental sensors such as daylight sensors and occupancy/vacancy sensors. In addition, this system creates a more flexible workspace where luminaires with fluorescent ballasts and EcoSystem LED drivers are individually addressed.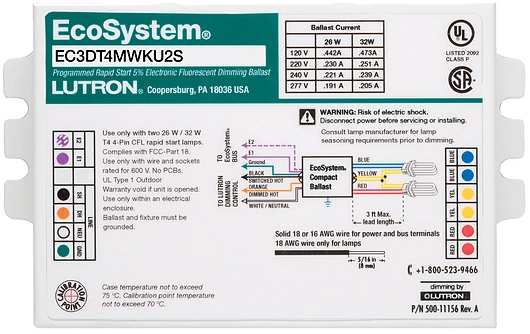 EcoSystem Compact ballast Kcase
The EcoSystem® system reduces the maintenance of the lighting system as it has fewer parts and intuitive programming. The environmental sensors and personal controls are integrated wirelessly or connected directly to any ballast, Energi Savr Node™ module or QS sensor module, eliminating interfaces, power packs and control devices.

EcoSystem ballast Gcase_T8
Features
Ballasts and drivers programmed to work individually
EcoSystem cabling offers different modules that have different characteristics of power consumption units, zones, and devices for wired sensor connections
Wired components can be connected directly to ballasts with integral sensor connections or to a QS or EcoSystem Energi Savr Node™ sensor module using Type C wire
Lighting controls can be a combination of digital controls and/or 3-wire EcoSystem
The sensors communicate directly via the integral sensor connections with ballast or through the Energi Savr Node™ module
EcoSystem communication begins with an ESN module. The ESN module digitally links the ballasts and feeds communications through the lighting control system
Available sensors include EcoSystem wired daylight sensors, Radio Powr Savr ™ wireless occupancy/vacancy sensors, Occupancy/vacancy wired EcoSystem sensors
Controls can be remote control, infrared and keypads
Programming application option for Apple iPhone or iPod touch
Option to customize the entrance of any ballast to meet the requirements of the different building codes, EPAct legislation, and LEED® standards.
* Apple and iPod are registered trademarks and iPhone is a trademark of Apple, Inc., registered in the US. UU. and in other countries.
Ballast - EcoSystem® Series H
The Lutron® Electronics H-Series EcoSystem® ballast is a commercial lighting control system that offers superior capabilities, simple configuration and greater flexibility. These digitally addressed ballasts combine superior 1% attenuation performance with Lutron's reliability and an affordable price.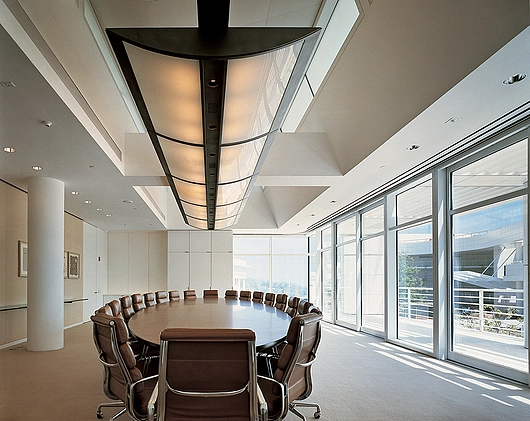 They can be used with existing Hi-Lume® 3D ballasts for projects with lamps of different lengths. In addition, the EcoSystem digital link can be wired as class 1 or class 2, making the H-Series ballasts the perfect choice for both remodeling and new construction. The EcoSystem Energi Savr NodeTM acts as a connection point for Lutron EcoSystem H Series ballasts and wired and wireless controls and sensors. An intuitive programming application for Apple's iPhone and iPod Touch mobile devices facilitates commissioning and reconfiguration of space and is the key to intelligent lighting and curtain control system.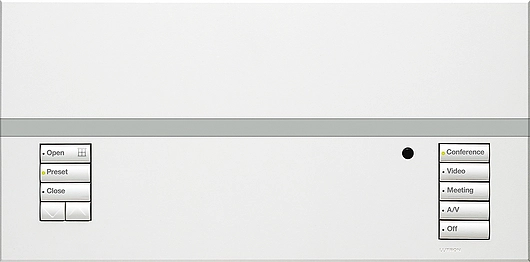 Grafik Eye to control spaces individually
Control a whole building with Quantum
EcoSystem H Series ballasts can be customized for a specific application, in order to improve the watts per square meter.
Features
Universal voltage input (120 V, 220 V / 240 V, 277 V)
Work with wired and wireless sensors and controls, and offer significant energy savings
Models available for:
- Luminaires of 1 and 2 T8 lamps of 1.2 meters (4 feet), available in ballast factor of 1.0 and 1.17
- Luminaires with 1 and 2 T5 lamps of 1.2 meters (4 feet)
- 1 and 2 T5HO lamps of 1.2 meters (4 feet)
Possibility of linking to the Quantum® system of Lutron Electronics to control an entire building
- Its memory allows you to restore your settings after a power failure or interruption in electricity
Its operating frequency does not allow interference with other devices by infrared control
Its programmed rapid ignition design contributes to the long life of the lamps
Its protection circuit offers safe operation when a lamp burns.
Turn on the lamps at any level of dimming without flickering
They are ultra-quiet
* Apple and iPod are registered trademarks and iPhone is a trademark of Apple, Inc., registered in the US. UU. and in other countries.