In 2015, the 10 municipalities of Haut Pays Bigouden in French Brittany decided to centralize their administrative services to the town of Pouldreuzic. The architect of the new headquarters, Pierre Brulé designed a single passive building in the city center, a traditional urban environment.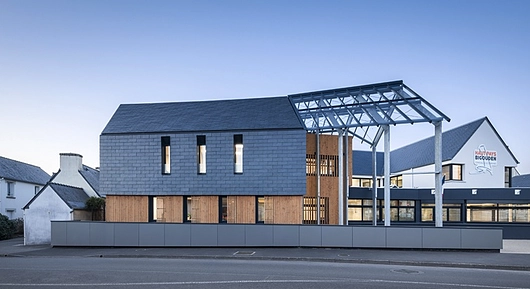 The architect chose to use the Cupaclad® 101 Random from Cupa Pizarras in a 50 x 25 format, combining the different size pieces to create a dynamic and contemporary solution. The durability and neat appearance of the invisible fixing system meant that the Cupaclad® 101 Random was the right material for this project. The façade is simple and striking, using a bold composition of natural slate, wood, and glass with the Cupaclad® 101 Random slate cladding wrapping over the roof and walls.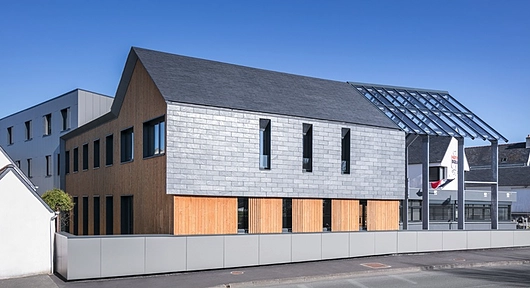 About Cupaclad 101 Random
The Cupaclad® 101 Random system is part of the Cupaclad® 101 series, made up of systems with invisible fixings that make Cupa Pizarras' natural slate the main attraction of a facade.
The Cupaclad® 101 Random rainscreen cladding system is synonymous with creativity and gives any facade an original design that makes the most of the flexibility and natural durability of slate. Natural slate is a unique product that lasts more than 100 years, which makes it the ideal material for any type of facade.
Cupaclad® systems have been specially designed to adapt the slate in the new design trends, which look for more ecological and sustainable solutions.