The Hollaender Manufacturing Company produces a wide array of architectural hand railing systems, from non-welded aluminum rails to stainless steel structural glass.
Popular Choices for Offices
In office applications, all Hollaender railing styles are popular. Some of their best-known railing designs include Interna-Rail®, Speed-Rail®, and Newman by Hollaender™ (formerly known as Newman Brothers Railing). Office areas usually use railing in more dramatic settings, going up a central stairwell, or at the top of a mezzanine where they can be used to create a statement.
Newman by Hollaender Structural Glass Railing is used where shoe mounted glass railing is required for visibility reasons. It comes with a range of cladding for the shoe and a variety of shapes and materials for top cap and assist rail:

Stainless Steel
Aluminum
Wood
Round/channel shapes

VUE railing with glass or acrylic infill is ideal for situations where a post mounted system is preferred to a shoe-mounted system.
Interna-Rail® aluminum railing with wire mesh infill is a popular choice, especially in areas where there is concern about durability and cost.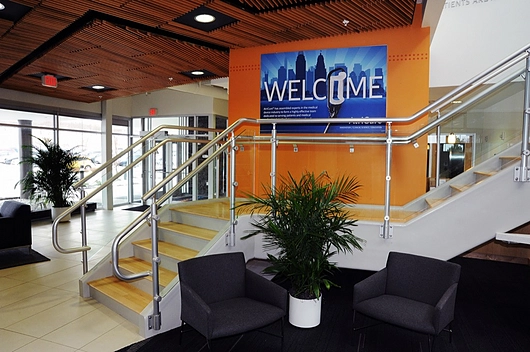 Infill Materials
Infills are available in a wide variety of materials, all of which have been tested to meet the IBC code. Hollaender offers both monolithic and laminated tempered glass, along with resin panels in both PETG and acrylic. Metal panels can be supplied in mesh, perforated or a more exotic pattern. Material for these metal panels ranges from aluminum to e-coated steel to stainless steel.
Finishes
Handrail finishes are available in a wide range of different patterns, colors, and textures. Aluminum systems can be anodized with clear and bronze options, or powder-coated in almost any color imaginable. Hollaender steel infill panels are produced in the same wide array of colors but are first e-coated to protect against corrosion. The stainless steel rail systems look great with a direction or circular brush, and panels can also be supplied in a bright dip.