Text description provided by the architects. The equestrian stable is designed with two major approaches: the use of traditional skills and natural materials, the application of large-scale tensioned membrane. The biggest problem to build with bricks is the structure form. A traditional brick building can not achieve the hollowed-out pattern and effects we wanted, so framework structure was added to break the restriction of using bricks as the structural wall, meanwhile the beam and eaves are specially treated.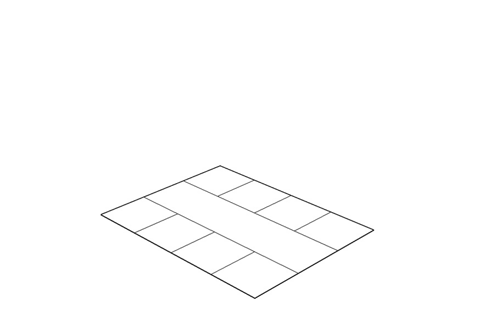 Industrial light-weight tensile membrane is used to cover such large horse racecourse with a span of 45 meters. Suspension link rings and umbrella-shaped pillars become the main form of tensioned membrane structure for the playground and the racecourse. Such design started off with the structure solution.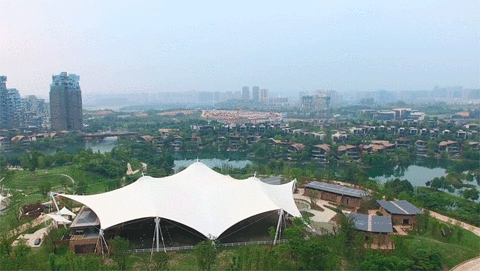 Children's heaven is hidden by side of the stable: the animal labyrinth. We took advantage of the height difference between the stable and the road, and created the fun and interesting animal farm and labyrinth, similar to the Hobbit's hut.
Luxes' school is not only a building, it is a complete place with three different interfaces: waterfront interface, streetfront interface (close to the stable), and the other interface adjacent to the playground. We want to create the interfaces with differences, but they are unified as well. The building is invisible from the view of the road by the stable, only steel structure, bamboo, and Luxe LOGO are visible, indicating a place hidden somewhere. Such arrangement is open and interactive.
Across the yard, a clean ramp goes down to interior of the school, just imagine, children are playing, shouting, chasing each other, it would take ten minutes to find them, suppose they run along the ramp or hide themselves in the grass growing on the roof. The waterfront side is planted with natural grass, just one big opening leading people to the interior ground of the school. No other architectural language or form is used, only one opening invites the children to the water, creating a hidden but beautiful place.
The other side adjacent to the playground is more integrative and inclusive, curved form maximizes the connection to the playground, which is just like a cave on the ground, where children would rest after they tire themselves of playing.
The three different interfaces bring children with different experiences. We hope the Luxe's school would become the warm cave deep in the heart of the children, safe and peaceful, where they can learn about the nature, and explore the world, while enjoying themselves.