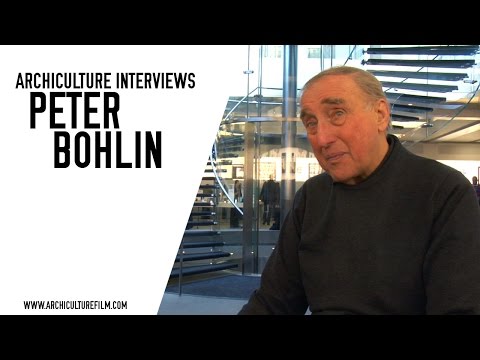 "I would say we're at the intersection of people, art, and technology…" In this latest Archiculture extras interview, Peter Bohlin, architect and president of Bohlin Cywinski Jackson, sits down with Arbuckle Industries to discuss the nature of architecture. He addresses some of the design challenges he faced when developing the 5th Avenue Apple Store and how he ultimately overcame them. Additionally, he provides his perspective on the attributes of "good architects" and the mindset of these individuals. He goes on to discuss the role of architects, and the challenges he anticipates for this discipline in the future.
Each year, a select group of prominent artists and architects is elected into the National Academy. As a National Academy Academician, distinguished practitioners are recognized for their "exceptional creative work and contribution to the arts." This year's inductees include: Ida Applebroog, Peter Bohlin, Jane Dickson, Preston Scott Cohen, Michael Manfredi and Marion Weiss, Eric Owen Moss, Antoine Predock, Martin Puryear, Charles Renfro, Edward Ruscha, and Joan Semmel.
Taking place at NewSchool of Architecture and Design this Wednesday, May 1st, at 6:00pm, architect Peter Bohlin, FAIA, will be speaking on the topic of 'Soft Modernism – The Nature of Circumstance'. Using examples of the firm's work from early to current projects, Peter will discuss the rich and powerful buildings of Bohlin Cywinski Jackson that resulted from The Nature of Circumstance. These range from the nature of places, both man-made and natural, to the varied nature of humans and their particular activities and to the nature of the means with which we build. The event is free and open to the public. For more information, please visit here.
American architect Peter Bohlin, FAIA discusses his life work and design philosophy at the 2011 September AIA Chapter Meeting, held in the Cartwright Auditorium at Kent State University. Bohlin founded Bohlin Cywinski Jackson in 1965 and has since gained a reputation for creating exceptional designs that are committed to the individuality of place and user. Bohlin has been awarded over 500 regional, national and international awards for design. In 2010, he received the national AIA Gold Medal, the highest award given by the institute. Enjoy the lecture and view ArchDaily's exclusive interview with Peter Bohlin here.
Bohlin Cywinski Jackson projects at ArchDaily:
Reference: AIA Akron
During the AIA Convention we had the opportunity to talk with Peter Bohlin (FAIA), founding principal of Bohlin Cywinski Jackson and one of the most renowned architects in the US.
An early advocate of sustainable design, Bohlin Cywinski Jackson focuses their designs on the site and the user.  Their sensitivity to place and ability to work in a wide range of scale and circumstance has resulted in a firm that is capable of providing exceptionally smart design on a consistent basis. Founded in 1965, they have offices in Wilkes-Barre, Pittsburgh, Philadelphia, Seattle and San Francisco.
Bohlin Cywinski Jackson is probably most well known to the general public for their design of the Apple Store Fifth Avenue in New York City.  This project is a great reflection of Bohlin Cywinski Jackson's commitment to outstanding design and emphases on creating a strong relationship between a building and its physical surroundings.
In 1994 Bohlin Cywinski Jackson was awarded the AIA Architecture Firm of the year and they have received over 450 awards, regionally, nationally, and internationally for their design abilities.  Most recently in 2010 founding partner Peter Bohlin received the prestigious AIA Gold Medal, the highest award given by the Institute.
Most of their most acclaimed projects can be found on "The Nature of Circumstance" a monograph published by Razzoli, and on "Arcadian Architecture: Bohlin Cywinski Jackson – 12 Houses".
You can see some of their projects featured at ArchDaily (more to come very soon!):