ArchDaily announced the winning proposal for the 2012 MoMA PS1 Young Architects Program (YAP) earlier this month. In order to bring you full coverage of the annual competition, we are featuring the other four creative designs that competed against HWKN's Wendy. Virtual Water, a collaborative design brought to you by UrbanLab, endrestudio and Method Design, formally manifests what is hidden in plain sight: RAIN. The project reveals and plays with thousands of gallons of summertime rainwater that would otherwise be discarded from the PS1 courtyard.
Virtual Water refers to water hidden in everyday products. A pair of jeans, for example, has a 3000 gallon Virtual Water footprint because 3000 gallons of water are consumed in the various steps of its production chain (growing the cotton, dyeing the fabric, etc).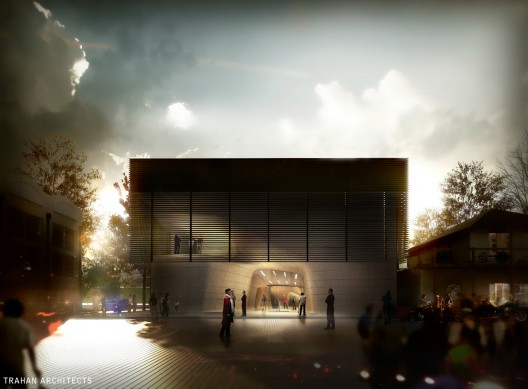 The Louisiana State Museum and Sports Hall of Fame (LSMSHOF) celebrates two seemly disconnected subjects within one contemporary venue, combining North Louisiana's profound history with its influential world of sports. Designed by Trahan Architects, in coordination with Method Design and CASE, the new $12.6 million venue will house donated memorabilia that embodies "the contributions of the diverse cultures that have shaped the state and are crucial to understanding the unique traditions and legacy of Louisiana and the Gulf South." A complex design, generated with the help of BIM technology, reflects the disparate subjects in one fluid structure encased within a locally inspired facade.
Continue reading for more information and images.