Long Island's downtowns have more than 4,000 acres of surface area dedicated to parking lots. That's roughly 6.5 square miles of prime real estate, a phenomenon quite common in most American cities. When necessary, these lots are often exchanged for a standard "set of concrete shelves" that share little to no connection with their surroundings. This leads to the question, why must parking garages be so monofunctional and, well, ugly?
To help solve this nationwide issue, the Long Island Index challenged four leading architectural firms to envision a more innovative way to free up surface lot space in four Long Island communities.
See what they came up with, after the break…
This article, by Linda Hales, originally appeared on Metropolis Mag as "Clear Line of Sight"
The new dormitory at Gallaudet University exudes raw energy. Rough wood planks, exposed steel, polished concrete, and gleaming bamboo unite to provide architectural muscle. But the real power comes from a barely detectable dynamic. That energy doesn't come from how the structure looks on its historic Washington D.C. campus, but how the building functions for the people inside. "It's about how buildings structure and frame human interaction," says David J. Lewis of LTL Architects. "The basic conditions of architecture were brought to the fore."
The glass entry door slides open with a soft whoosh. Students ignore it as they crowd through the gap in a jumbled dance of elbows, hands, arms, and animated faces. Gallaudet is the preeminent liberal arts institution for youth who are deaf or hard of hearing, and most of its 1,821 students communicate with the expansive gestures and expressions of American Sign Language (ASL). That the students can make their way into the building without using their hands to open the door—thus halting the flow of the conversation—is cause for celebration. Here, at least, architecture has gotten out of their way.
Architects: LTL Architects
Location: 101 North Mills Avenue, Claremont, CA 91711, USA
Project Team: Paul Lewis, Marc Tsurumaki, David Lewis; John Morrison, Project Manager; Hye-Young Chung, Matthew Clarke, Perla Dís Kristinsdóttir; Michael Tyre, Aaron Forrest, Deric Mizokami, Kevin Hayes and Tina Hunderup
Architect Of Record: Grant / Takacs Architecture
Area: 42000.0 ft2
Year: 2011
Photographs: Michael Moran
Taking place September 24th at the National Building Museum, the Spotlight On Design: Intensities: Recent Work by Lewis.Tsurumaki.Lewis event highlights the firm's ability in using the constraints of small budgets, awkward spaces, and strict zoning to generate innovative architecture. Marc Tsurumaki, AIA, one of the founding principals of the New York-based studio, shows how this "opportunistic architecture" results in compelling projects that include Austin's Arthouse at the Jones Center and the Claremont University Consortium Administrative Campus Center. For more information, please visit here.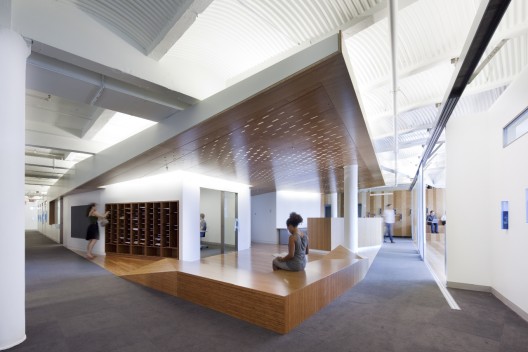 Lewis.Tsurumaki.Lewis Architects (LTL Architects) was commissioned to design the offices for NYU's Department of Social and Cultural Analysis (SCA). The SCA is transdisciplinary in nature, combining topics and methodologies drawn from the humanities and social sciences. Areas of study include Africana Studies, American Studies, Asian/Pacific/American Studies, Gender and Sexuality Studies, Latino Studies and Metropolitan Studies.
Architect: Lewis.Tsurumaki.Lewis Architects (LTL Architects)
Location: New York City, New York, USA
Project Area: 16,000 sqf
Project Year: 2009
Photographs: Michael Moran Studio
The challenge of this student center for the University of Wyoming's College of Education was to transform two non-descript and ill-defined open floor areas, crossed with circulation, into places that one the one hand would be effective student lounges, and on the other inspire curiosity about the built environment. Each floor consists of a student lounge distinguished from circulation by a cnc milled bamboo plywood screen.
Architect: Lewis.Tsurumaki.Lewis Architects (LTL Architects)
Location: Laramie, Wyoming, USA
Project Area: 5,200 sqf
Project Year: 2011
Photography: Michael Moran Studio
Located in the heart of downtown Austin, this project is a renovation and expansion of an existing contemporary art space. LTL was commissioned to design 21,000 sqf of new program within the building envelope, including an entry lounge, a video/projects room, a large open gallery, multipurpose room, two artists' studios, additional art preparation areas, and an roof deck.
Architect: Lewis Tsurumaki Lewis Architects (LTL Architects)
Location: Austin, Texas, USA
Project Area: 21,000 sqf
Project Year: 2010
Photographs: Michael Moran
This 2000 sqf Chinese restaurant occupies a floor plan typical in New York, in which the middle of the plan is a bottleneck—a result of lightwells located on each side of the tenement building. Rather than force the design to hide this distinction of the front and the back, the approach for Xing was to accentuate the unique nature of each of the spaces. Employing a logic derived from the Surrealists' game of the Exquisite Corpse, the space is composed of four distinct, yet interlocked areas, each defined by a specific material.
Architect: Lewis Tsurumaki Lewis Architects (LTL Architects)
Location: 785 Ninth Avenue, New York City, New York, USA
Project Team: Paul Lewis (Principal), Marc Tsurumaki (Principal), David J. Lewis (Principal), Eric Samuels, Lucas Cascardo, Alex Terzich, Matthew Roman
Contractor: Gateway Design Group
Project Area: 2000 sqf
Project Year: 2005
Photographs: Michael Moran Studio
This villa is located in plot #93 of the ORDOS project.
Architects: LTL Architects
Location: Ordos, Inner Mongolia, China
Project Team: Marc Tsurumaki, Paul Lewis, David J. Lewis, Kate Snider, Deric Mizokami, Laura Cheung
Design year: 2008
Construction year: 2009-2010
Curator: Ai Weiwei, Beijing, China
Client: Jiang Yuan Water Engineering Ltd, Inner Mongolia, China
Constructed Area: 1,000 sqm aprox