After two weeks of nominations and voting, we are pleased to present the winners of the 2015 ArchDaily Building of the Year Awards. As a peer-based, crowdsourced architecture award, the results shown here represent the collective intelligence of 31,000 architects, filtering the best architecture from over 3,000 projects featured on ArchDaily during the past year.
The winning buildings represent a diverse group of architects, from Pritzker Prize winners such as Álvaro Siza, Herzog & de Meuron and Shigeru Ban, to up-and-coming practices such as EFFEKT and Building which have so far been less widely covered by the media. In many cases their designs may be the most visually striking, but each also approaches its context and program in a unique way to solve social, environmental or economic challenges in communities around the world. By publishing them on ArchDaily, these buildings have helped us to impart inspiration and knowledge to architects around the world, furthering our mission. So to everyone who participated by either nominating or voting for a shortlisted project, thank you for being a part of this amazing process, where the voices of architects from all over the world unite to form one strong, intelligent, forward-thinking message.
We've been covering CEBRA +  JDS + SeARCH + Louis Paillard's geometric harbor project for Arhus, Denmark.  The huge project, which measures over 21,000 sqm, will include mixed dwellings types and commercial space.  CEBRA has shared a few short video clips with us, highlighting the progress of the project.  This featured clip is shot from the bridge connecting the future harbor promenade across the nearby canal. The grey concrete wall shown is the beginning of the southern facade (the actual floor is on top of the wall) and behind the wall is where the parking is situated.
Another video, as well as a few construction photos, after the break.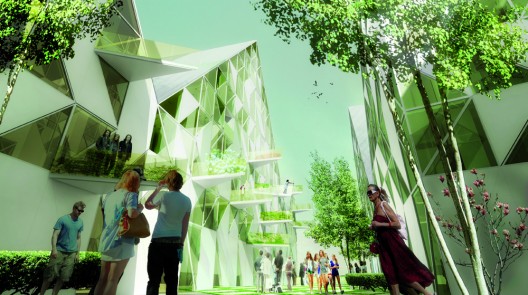 One of our favorites, CEBRA, (and their collaboraters JDS, SeARCH and Louis Paillard) shared their latest winning competition entry.  Situated in Aarhus, Denmark, right in front of the harbor, the 21.500 m2 project features mixed dwellings types and commercial space.   The project receives its jagged heights to allow better views toward the ocean and better daylight conditions, and the tops and bottoms are shifted so that views between the volumes become possible.  This breakdown of the mass creates the potential for an "iconic" building for the harbor area, and one that, due to its form, creates its own skyline within itself.  There's just something about the Danes' approaches, like BIG + Cebra, where they tackle simple realities, such as light and views, and allow their whole building to respond them in an unconventional and dynamic way.
More images, diagrams and more information about the winning design after the break.