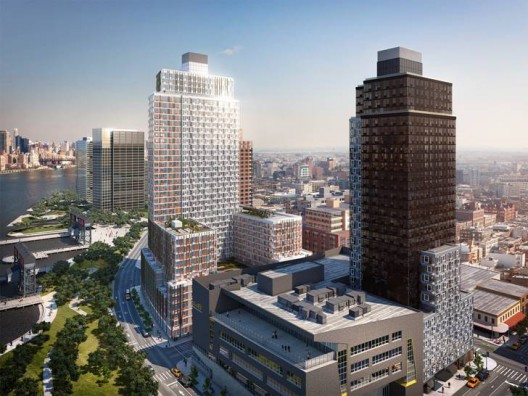 Despite NYC's recent bout with nature, Mayor Bloomberg is undeterred from developing housing along NYC's long stretch of waterfront, taking into account that proper measures are taken for storm and flooding mitigation.  The latest in large scale developments comes to Hunter's Point South in the neighborhood of Long Island City in Queens.  The first of such a scale since the 1970s development of Co-Op City in the Bronx, plans will include two phases of design and construction. The first phase, designed by SHoP Architects with Ismael Leyva Architects will bring two residential towers with 925 permanently affordable apartments, 17,000 square feet of retail space, infrastructural installations, a five-acre waterfront park, and a 1,100-seat school.
Join us after the break for more on this large scale development in Long Island City.
Architects: JENDRETZKI
Location: Long Island City, New York, United States
Area: 1,800 sqm
Year: 2010
Photographs: Pablo Corradi
ARTBOOK @ MoMA PS1 will be launching NY-based architect Steven Holl's newest books published by Lars Müller. These two luminaries of architecture and design will engage in a conversation about their respective projects as well as the collaborative publishing process on March 4th from 3:00pm – 4:30pm. Following the discussion, Holl will sign his two new publications, Steven Holl: Color Light Time and Steven Holl: Scale. More information after the break.