"The works of our artists, architects, and preservationists provide us with another language of diplomacy. A transcendent language that allows us to convey values that are at once uniquely American yet speak to all of humanity.  Increasingly in this world, art and architecture help us maintain our sense of openness and liberation." — Former Secretary of State Hillary Rodham Clinton, April 12, 2010 
An embassy is much more than a building or a work of architecture; it functions as a symbolic representation of countries' relationships to one another.  It represents the universal language of diplomacy – "communicating values and ideals, extending well beyond any moment in time".  An embassy has the difficult task of representing two diametrically opposed concepts: security and openness.  The former typically overpowers the latter in importance, which is most probably why when we think of foreign embassies, it conjures up images of stately monolithic buildings surrounded by tall fences and menacing guards or "bunkers, bland cubes, lifeless compounds", according to Tanya Ballard Brown of NPR's All Things Considered.
More on the design excellence of embassies after the break…
The American Institute of Architects, California Council (AIACC) has announced the 2012 Design Award Recipients. Since 1982, AIACC has recognized excellence in architecture and design through the AIACC Design Awards Program. An esteemed Design Awards jury has selected these award winners out of 300 submittals. Continue after the break to review the projects!
We recently received KieranTimberlake's newest book, Inquiry. Instead of listing one project after the next, as in most monographs, this book is organized around ten gerunds: bending, coupling, filtering, inserting, offsetting, outlining, overlapping, puncturing, reflecting, and tuning. This is a lovely and informative way to view their work. The reason behind the book's organized is explained by Karl Wallick in the preface. Wallick writes, "Architecture is not exactly whole: we remember instances, elements, and details, but rarely are the experiences and sensations in architectural experience comprehensive. The context of what we do as architects is also fragmentary, even as it seeks to be resolved comprehensively. Rather than insisting on the totality of complete works, architecture might be better understood as an infinite matrix of detailed moments."
Architects: KieranTimberlake / James Timberlake, Stephen Kieran, Jason Smith, Steven Johns, George Ristow, Casey Boss
Location: Houston, Texas, USA
Client: Rice University
Project Year: 2011
Project Area: 10,219 sqm
Photographs: Peter Aaron (OTTO), Michael Moran (OTTO), Hester + Hardaway, Red Wing Aerials
Landscape Architect: The Office of James Burnett (OJB)
Location: Houston, Texas, USA
Architect: KieranTimberlake
Photographs: Hester + Hardaway
With the help from a few of our readers, our Architecture City Guide headed to Charlotte this week. By American standards Charlotte is an old city, but it has undergone a huge transformation in the last few decades with the influx of banking headquarters. It is now the second largest banking center in the United State and this is partly reflected in its growing skyline. We, with the help of our readers, have put together a list of 12 buildings worth seeing. There are plenty more that could have made the list so please add your favorites to the comment section below.
The Architecture City Guide: Charlotte list and corresponding map after the break.
This week our Architecture City Guide is headed to Philadelphia. The list of influential architects that have either worked, studied, or taught in Philadelphia is perhaps the only list that challenges the numbers of Founding Fathers that descended on this city of "Brotherly Love." A brief list includes Sullivan, Kahn, Wright, Pei, Rudolf, Corbusier, Latrobe, Gropius, Mumford, and Furness. That being said, our list of 12 barely scratches the surface of buildings worth seeing in this great city. We would like to hear about your must not miss buildings in the comment section below.
The Architecture City Guide: Philadelphia list and corresponding map after the break!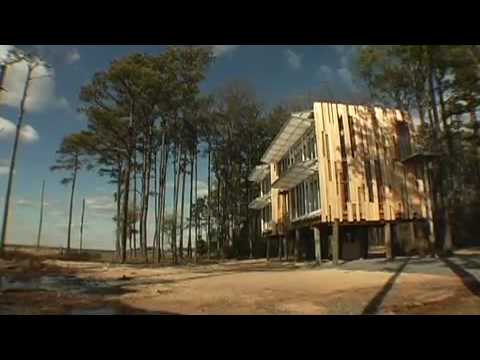 Built on Taylors' Island, Kieran Timberlake's Loblolly House is nestled into a grove of loblolly pines and responds in an "environmentally ethical" way to its surroundings.   Lifted on skewed wooden pillars in order to rest lightly on the site, the residence seems to float amidst the trees and aims to put the focus on the natural environment, such as the sun, the trees and the Chesapeake Bay.   The video shares some of the thought process, assembly and construction process as well as the finished project.  We find the project extremely thoughtful and hope you enjoy the video!