Architects: Urbana
Location: Sidney & Lois Eskenazi Hospital, 720 Eskenazi Avenue, Indianapolis, IN 46202, USA
Year: 2014
Photographs: Serge Hoeltschi
The City-County Building Plaza Design Competition is seeking a final conceptual design that would be implemented on an existing 1.94 acre open space on the City-County Building Property also known as the City-County Building Plaza (CCB Plaza).
The design team whose winning design is selected will receive $15,000 (2nd Place – $7,500; 3rd Place – $2,500) and will then be the preferred professional services provider for a full engineering/design contract (upon obtaining available funding) with the Indianapolis-Marion County Building Authority (IMCBA). Complete information can be found on the competition's official website.
Architects: Cannon Design
Location: 355 West 16th Street, Indianapolis, IN 46202, USA
Area: 270000.0 sqm
Year: 2012
Photographs: James Steinkamp , Christopher Barrett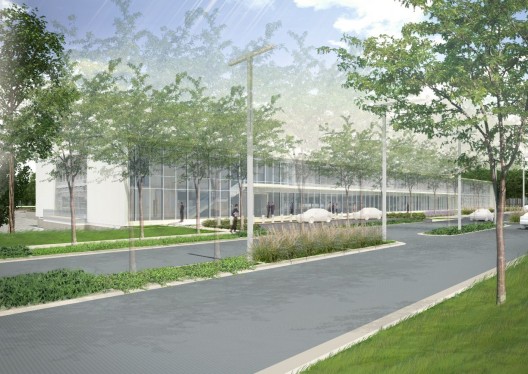 Aiming to provide a new gateway and identity, the two-story, 87,135-square-feet Roche Diagnostics Training Center re-imagines their Indianapolis campus. Designed by SOM, the project just broke ground as it begins to establish a new and consistent brand identity for the Swiss-based pharmaceutical company. The new building's clean, modern aesthetic embodies Roche's corporate architectural philosophy and is informed by a 100 year legacy of European design precedents. More images and architects' description after the break.
With the Simon Family Tower addition still under construction at the Riley Hospital for Children, the installation for hospital is complete, after over a year in the making. Designed by PROJECTiONE, 'Riley Sunrise' was designed with the hope that the super-graphics can serve as a pleasant distraction for visitors of the hospital and lead to discussions that can re-focus a conversation towards something positive and uplifting. More images and architects' description after the break.
Don't forget to check out the building today when Super Bowl XLVI kicks off at Lucas Oil Stadium in the heart of downtown Indianapolis. HKS repeats as designer for two consecutive Super Bowl venues, immediately following the Super Bowl debut at HKS-designed Cowboys Stadium in Dallas in 2011. The 1.8 million-square-foot sports and entertainment venue has normal capacity of 63,000 for Indianapolis Colts Football, but will expand to approximately 70,000 for the 2012 Super Bowl. The stadium and surrounding site will be transformed to incorporate game-day fan plazas, sponsorship zones, media broadcast areas, fan interactive zones and tailgating. The economic impact to the host city is estimated at $300 million to $400 million.
Mark A. Williams, AIA, principal for HKS Sports & Entertainment Group, said, "We are proud to have created the venues selected for the world's preeminent sporting event. While very different in their designs, Lucas Oil Stadium and last year's host, Cowboy Stadium, both provide a setting that immeasurably enhances fan enjoyment and contributes to the success of this momentous event."
Continue reading to learn more about the 2012 Super Bowl venue.
Architect: RATIO Architects
Location: Indianapolis, Indiana, United States
Project Area: 700,000 sq ft
Project Year: 2011
Photographs: Bill Zbaren Photography
In 2006, the Indiana Stadium and Convention Building Authority selected RATIO Architects to create a major expansion to the Indiana Convention Center as a response to ongoing increased convention and trade show demand. The more than 700,000 sq. ft. expansion includes exhibition space, meeting rooms, and pre-function and support space – all within a tight urban site in the heart of Indianapolis, directly connected to 4,700 hotel rooms and within easy walking distance of restaurants, retail shops and at the head of a new pedestrian/event street. More about the Indiana Stadium and Convention Building after the break.
Through the Gresham Smith Competition (an annual program sponsored by Gresham Smith and Partners), the Ball State University, College of Architecture and Planning, Department of Architecture, with support from the College of Architecture and Planning, Indianapolis Center (CAP: IC) has offered to assist the Julia Carson Legacy of Love Foundation in consolidating the objectives of its mission to realize the Julia Carson Community Center by facilitating community participatory engagement through a programmatic and conceptual design competition. More about the project and competition winners after the break.
This week, with the help of our readers, we visited Indianapolis for our Architecture City Guide. Our readers suggested a lot of really nice buildings and we greatly appreciate their help. Indianapolis's numerous sporting events and conventions continually draw crowds to this industrious state capital throughout the year. It is only fitting that there is an architecture city guide for its various contemporary buildings. As a seat of government and industry, Indianapolis also boasts a nice variety of historic architecture that is worth seeing. Take a look at the list our readers help put together and add your favorites to the comment section below.
The Architecture City Guide: Indianapolis list and corresponding map after the break.
The Ruth Lilly Visitors Pavilion is the result of a studied relationship between building, land and art, and serves as both a threshold and a destination within the 100 Acres Art & Nature Park at the Indianapolis Museum of Art. An ipe screen lines a steel exoskeleton forming deck, wall and canopy, wrapping programmatic elements. The pavilion is constructed to touch the landscape lightly and allow for the free flow of rain and filtered sunlight through the structure.
Architect: Marlon Blackwell Architect
Location: 100 Acres Art & Nature Park, The Indianapolis Museum of Art, Indianapolis, Indiana, USA
Project Area: 1,290 sqf enclosed, 3,041 sqf deck, 3,582 sqf canopy
Project Year: 2010
Photographs: Timothy Hursley
This is our second attempt at a bottom-up approach to our Architecture City Guides and we need your help. To make the City Guides more engaging we are asking for your input on which designs should comprise our weekly list of 12. In order for this to work we will need you, our readers, to suggest a few of your favorite modern/contemporary buildings for the upcoming city guide in the comment section below.
Along with your suggestions we ask that you provide a link to a Flickr image you took of the building that we can use, the address of the building, and the architect. From that we will select the top 12 most recommended buildings. Hopefully this method will help bring to our attention smaller well done projects that only locals truly know. With that in mind we do not showcase private single-family residences for obvious reasons. Additionally, we try to only show completed projects.
This week we are taking our Architecture City Guide to Indianapolis, Indiana.
Example:
The Pyramids / Roche, Dinkeloo and Associate
http://www.flickr.com/photos/paul_everett82/2391016248/
3500 Depauw Boulevard, Indianapolis, Indiana
Clark Thenhaus, of Endemic Architecture has shared with Arch Daily his design for a gateway to the Indianapolis Art Center. While the project has been canceled, we felt the design was still worth sharing to our readers. Follow after the break for additional renderings, diagrams and a description from the architect.
The Light Screen is a site specific installation located in a walnut grove at Fort Benjamin Harrison State Park in Indianapolis. The proposed project was a finalist in the "Great Ideas" competition sponsored by the Arts Council of Indianapolis, and builds on an architectural installation previously completed by the entrant in Halifax, Nova Scotia in 2006 – Light Sail (selected images of which are also included here).  More about this installation following the break.
Architects: Timothy Gray of Gray Architecture with Kurt West, Melli Hoppe
Location: Walnut Grove, Ft. Benjamin Harrison State Park, Indianapolis, Indiana
Design Team / Collaborators: Timothy Gray, Kurt West, Melli Hoppe (Light Screen); Timothy Gray, Lina Ali, Kirsten Bremmer, Andrew Cranford; Guy Fimmers; April Hiebert; Luc Johnston; Lauren Macaulay; Michelle Poon; Adam Read; Lauren Staples, FreeLAB 2006 (Light Sail)
Model and renderings: Kurt West
Photographs: Timothy Gray, Ken Cam, Guy Fimmers, Luc Johnston
Salvaged Layers; a Collaborative Site Specific Performance project was an interdisciplinary collaboration between two groups of students from separate Universities.  The studio challenged students to explore issues of craft, making and place through a series of full scale built interventions in a historic Indianapolis theatre which had been gutted in anticipation of a planned renovation. The raw state of the theatre's interior gave students a rich and evocative palette to engage while simultaneously liberating them from the conventional notions of stage and audience.
Architects: Students of Ball State University Department of Architecture; Faculty Coordinator Timothy Gray, Gray Architecture
Location: 5505 E Washington Street, Indianapolis, Indiana, USA
Project Team: Mark Vanden Akker, Austin Lucari, Jay Weeks, Brad Wanek, Veronica Eulacivo, Eric Jenson, Michael Neizer, Paul Reynolds, Greg Hittler, Luke Haas, Ben Greenberg; (Butler University) Jacqueline Vouga, Jeff Irlbeck, Jill Harman, Amanda Lynn Meyer, Amanda Miller, Joe Esbenshade, Chris Ziegler, Jessica Conger, Steph Gray, and Butler University Faculty Coordinator Melli Hoppe
Client: Dale Harkin, Irving Theatre
Project Year: 2010
Photographs: Greg Hittler, Courtesy of Gray Architecture