When you think about the future, how do you envision the built environment? According to this article, originally appearing on The Huffington Post as The Architecture of the Future is Far More Spectacular than You Could Imagine, the future is closer than we might think – current projects are already answering the imagined needs and desires of the next generation. From a tower with rotating floors to a park with the ability to cleanse raw sewage, check out fourteen projects believed to embody the architecture of tomorrow, after the break.
WXY Architecture + Urban Design and dlandstudio architecture & landscape have been commissioned to lead a feasibility study and planning for The QueensWay, a 3.5-mile section of abandoned railway tracks in Queens, New York, that will be converted into a High Line-inspired park and recreational pathways. As we reported earlier this year, the elevated railway line has been inactive since 1962 and, if transformed into a public parkway, has the capablitiy of serving more than 250,000 residents that live alongside it.
One of the United States' most polluted bodies of water is about to receive a much needed make-over: In early 2014, construction will begin on a pollution-preventing greenscape that will run alongside Brooklyn's Gowanus Canal. The proposal, dubbed Sponge Park, was envisioned more than five years ago by Susannah Drake of dlandstudio and has just now "soaked up" enough funds to move forward.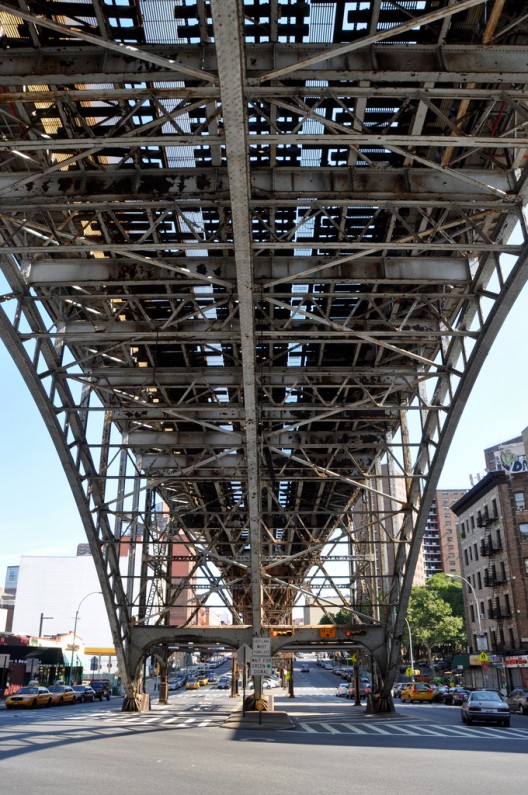 The Brooklyn Queens Expressway (BQE) cuts through myriad neighborhoods on its route between Queens and Brooklyn. Sometimes it takes the form of an elevated six-lane highway with nothing but dark parking lots below; sometimes as a deep trench that segregates neighborhood pockets. The Cross Bronx Expressway in the South Bronx similarly creates boundaries, isolating neighborhoods from each other.
Projects such as these, built under the heavy handed politics of Robert Moses in the mid-20th century, show little regard for community development. The effects of these projects can be seen today; the  spaces below the highway overpasses of New York City tend to be dark, dingy places that we avoid or rush past. They're perceived as "lost space" within the city, yet they have an innate potential to be much more.
The Design Trust for Public Space, a non-profit dedicated to promoting public space, sees that potential. With their new project, Under the Elevated: Reclaiming Space, Connecting Communities, they hope to take these "lost" spaces and turn them into safe and exciting venues that will, at long last, reconnect long-separated communities.
More on this exciting program, after the break.
Emerging Voices is an award developed by the Architecture League of New York that annually selects eight practitioners in a juried portfolio selection.  Award recipients are selected from the disciplines of architecture, landscape design and urbanism and display the sensibility of the profession in light of the larger issues related to the built environment.  This year's selection includes: SO-IL, PRODUCTORA, Ogrydziak Prillinger Architects, MASS Design Group, graciastudio , dland studio, DIGSAU, and cao | perrot Studio.
Details after the break.