Architects: Adjaye Associates
Location: Bellevue Library, 1111 110th Ave NE, Bellevue, Washington DC, USA
Project Year: 2012
Photographs: Edmund Sumner
To better serve an ever-expanding network of patients, Seattle Children's Hospital set out to build a new campus in Bellevue, Washington. The resulting building, designed by Seattle-based NBBJ, successfully serves several constituencies simultaneously. The highly efficient building is the winner of a 2010 Honor Award from AIA Seattle. More information and images after the break.
Architect: NBBJ
Location: Bellevue, Washington, USA
Consultants: Sellen Construction, PCS Structural Solutions, Affiliated Engineers, Inc., Cierra Lighting Group, Site Workshop
Project Area: 80,000 sf
Project Year: 2010
Photographs:  Benjamin Benschnieder/OTTO, Sean Airhart
The "Green Concept Home" is a two-story single-family residence located in Bellevue, Washington. This 2,840 sqf house has a contemporary design and is owned, designed and built by husband and wife team David Huang and Millie Leung. Designed by Modus V Studio Architects, the house broke ground in September 2009 and was completed the following year in September 2010.
Architects: Modus V Studio Architects, David Huang
Location: Bellevue, Washington, USA
General Contractor: David Huang
Interior Designer: Millie Leung
Green Verifier: O'Brien & Company
Mechanical Engineer: Mitchell Engineering, Inc.
Landscape Designer: Studio 342 Landscape Architecture
Energy Consultant: Bushnell Energy Consulting
Project Year: 2010
Photographs: Millie Leung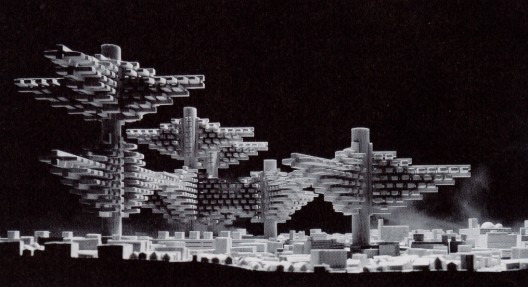 The internationally touring exhibit 'Struggling Cities' focuses on the proposals of urbanization by Japanese architects in the 1960s including:
- Kenzo Tange's "A Plan for Tokyo-1960;"
- the Metabolist schemes of Kiyonori Kikutake, Kisho Kurokawa, Masato Ohtaka, Fumihiko Maki, and Noboru Kawazoe; and
- Arata Isozaki's "Cities in the Air"
Currently on display the exhibit runs through Friday, April 29th (excluding Sundays) from 10am to 4pm at MulvannyG2.  'Struggling Cities' was also featured at the Shanghai Expo in 2010 and at the Japan Cultural Institute in Cologne, Germany.
Further details can be found here.
The Japan Foundation Exhibit is co-sponsored by Consulate-General of Japan in Seattle and Seattle Cherry Blossom and Japanese Cultural Festival Committee, King County 4Culture, City of Seattle Office of Arts and Cultural Affairs.
In collaboration with University of Washington College of Built Environments, American Institute of Architects Seattle, Hamilton International School – Future Cities, MulvannyG2, Japan-America Society of the State of Washington, Seattle Center, Nippon Express, and Yuri Kinoshita.
We recieved the latest from HDR Architecture: a Medical Center in Bellevue, USA.
The style made famous by E. E. Roberts, Alfred Caldwell and Frank Lloyd Wright nearly a century ago was defined by a layering of horizontal planes inspired by the linear horizon of the native prairie landscape. It defined progressive design between 1893-1920.
Asked to design Bellevue Medical Center in the prairie style, HDR Architecture posed the question "what would Frank do today?" Surely he wouldn't conform to a style that was progressive 100 years ago.
Further information and photos of this project after the break.
Weinstein A|U designed the new 12,000 sqf building for Gregg's Cycles to be a pure neutral container that highlights the bicycle. It was conceived as an elevated steel box that is supported structurally and programmatically by a CMU perimeter zone.
Project description, images, and drawings after the break.
Architect: Weinstein A|U
Location: 105 Bellevue Way NE, Bellevue, Washington 98004, USA
Project Team: Ed Weinstein, FAIA (Principal-in-Charge), Scot Carr, AIA (Project Manager/Architect), Heather Hargesheimer, AIA, LEED AP (Design Staff)
General Contractor: Foushée & Associates Inc
Structural Engineer: Swenson Say Faget
Civil Engineer: Coughlin Porter Lundeen
Landscape Architect: Karen Kiest Landscape Architect
Geotechnical: The Riley Group
Project Area: 12,000 sqf
Project Year: 2007
Photographs: Michael Burns, Ed Sozinho
The Bellevue Botanical Garden improvements, led by Olson Kundig Architects, include a new Visitor Center complex, renovations of a mid-century residence, and extensive site work. Targeting a minimum of LEED Silver certification, these improvements will enhance the existing educational program and provide facilities for greater numbers of visitors.
"The Bellevue Botanical Garden has the potential to become one of the finest botanical gardens in the world," shared Jim Olson, founder of Olson Kundig Architects. "I grew up in the Northwest and have spent my life exploring ways to bring architecture and nature closer together, to blur the distinction of indoors and outdoors and to frame nature so that its beauty is celebrated. This project offers a chance to bring my lifelong exploration to a place where it would encourage others to love nature as much as I do."
Further description and rendering following the break.
Architects: Olson Kundig Architects
Location: Bellevue, Washington, USA