Since childhood, growing up on a farm outside of Nashville, Wendell Burnette has been inspired by nature; indeed, the amplification of the natural site has highlighted his body of work. In the following question and answer by Guy Horton of Metropolis Magazine, the Pheonix-based architect speaks about memories, inspiration and experience. 
Wendell Burnette's journey through architecture has taken him from Frank Lloyd Wright's Taliesin to some of the most beautiful landscapes in the world, where he has designed a type of architecture that resonates with the power of natural surroundings. It has also taken him to one of the world's fastest growing cities, Phoenix, Arizona, where his practice, Wendell Burnette Architects, is based and where he calls home. More recently it has brought him to Los Angeles where he is the current Nancy M. & Edward D. Fox Urban Design Critic at the USC School of Architecture. He is also Professor of Practice at The Design School at Arizona State University's Herberger Institute of Design and the Arts.
I spoke with Burnette about his approach to architecture, the importance of direct experience, and the meaning behind his current USC studio, "Earth Curvature".
The annual AIAS FORUM meeting for 2011 will take a break from the snow of the past two years (2009 Minnesota, 2010 Toronto) and be held in sunny downtown Phoenix, Arizona. FORUM is the annual meeting of the AIAS and the premier global gathering of architecture and design students. The conference provides students with the opportunity to learn about important issues facing architectural education and the profession, to meet students, educators, and professionals with common interests, and to interact with some of today's leading architects through keynote addresses, tours, workshops and seminars, last years FORUM was attended by over 1,000 young and ambitious architecture students and AIAS members. This years Keynote Speakers will be Jeffrey Inaba, founder of C-Lab and former project manager with Rem Koolhaas and OMA, Brad Lancaster, author of www.harvestingrainwater.com, and University of Californa, San Diego architect and professor Teddy Cruz.
Architect: AU Design Studio, LLC – Amit Upadhye
Project Team: Amit Upadhye, Trevor Pentecost, Jeremy Smith, Ryu Ikegai
Location: Scottsdale, Arizona
Project Year: 2008
Project Area: 6,000SqFt
Structural Engineer: A.E. & Associates
Mechanical & Plumbing Engineer: Otterbein Engineering
Electrical Engineer: Tuly Engineering
Contractor: First Choice
Photography: Amit Upadhye
Architect: Architekton
Location: Tempe, Arizona
Project Year: 2008
Project Cost: $18.9M
Client: City of Tempe
Photography: Bill Timmerman, A.F. Payne Photographic, Architekton, Otak, Skip Neeley
The studio of Debartolo Architects is a unique architectural design firm in that they are passionately committed to architectural excellence parallel with their commitment to serving clients and creating relevant and functionally-tuned environments for people. Founded in 1996 as a collaboration of the father-son team, the firm is built on the rich history of Jack Debartolo Jr. FAIA's 22-year partnership with Anderson DeBartolo Pan, Inc. Through creativity, innovation and careful listening, their team has become one of the leading studios in creating highly-custom, well-tuned built-environments that respond to their client, context, culture and community.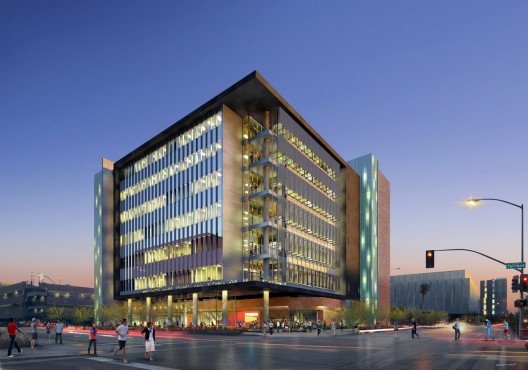 Arizona State University's new Interdisciplinary Science and Technology Building 4 (ISTB 4) was designed to be a progressive home for ASU's School of Earth and Space Exploration (SESE) and some departments from the Fulton Schools of Engineering (FSE). At 294,000 sq.-ft., this seven-story "smart" structure will be the largest research facility in the history of the university. In addition to cutting-edge laboratories and research offices, ISTB 4 will house extensive public outreach and K-12 education spaces designed to engage the Greater Phoenix community in earth and space exploration. Ehrlich Architects' new Arizona State University School of Earth and Space Exploration is a clearly organized laboratory building that will enhance the research, science and educational programs housed within.
Architect: John Douglas Architects
Location: Phoenix, Arizona
Project Year: 2008
Structural Engineer: KPFF
Civil Engineer: KPFF
Mechanical Engineer: Energy Systems Design
Lighting Design: R.C. Lurie Company
Landscape Architect: Design Worksop
Exhibit Design: Thinking Caps
Photography: John Douglas Architects
The design for the ASU Polytechnic Campus transformed a decommissioned airbase into an inviting pedestrian campus that celebrates the desert landscape and created a new identity for the program. Fourteen acres of asphalt and concrete were removed to transform the site into a desert landscaped mall. Storm water is slowed, captured in detention basins throughout the mall, and used to nourish the landscape. The strategy minimized the load on the existing detention basin and established an indigenous landscape as the heart of the new campus.
Architects: Lake|Flato Architects and RSP Architects
Location: Mesa, Arizona, USA
Project Team: Ted Flato, FAIA, Andrew Herdeg, AIA, Chris Krajcer, Matt Wallace (Lake|Flato Architects), Joe Tyndall, Beau Dromiack, John Williams, Chris Doran, John Grosskopf (RSP Architects)
General Contractor: DPR
Landscape Architect: Ten Eyck
MEP Engineer: Energy Systems Design
Structural Engineer: Paragon
LEED Consultant: Green Ideas
Civil Engineer: Wood Patel & Associates
Acoustics: McKay Conant Brook
AV: Jeremiah & Associates
Cost Estimating: Rider Hunt Levett & Bailey
Fire & Life Safety: Rolf Jensen & Associates
Geotechnical: Speedie & Associates
Lab Consultant: RFD
ADA Consultant: Robert Lynch
Client: Arizona State University
Photographs: Bill Timmerman