From the Publisher. Christoph Gielen's aerial views offer a look at America's most aberrant and unusual sprawl forms in ways we usually don't get to see them: from far above the ground—a vantage point that reveals both the intricate geometry as well as the idiosyncratic allure of these developments. Here, encountering sprawl becomes an aesthetic experience that at the same time leaves us with a sense of foreboding, of seeing the "writing on the wall". At once fascinating and profoundly unsettling, these photographs detail the potential ramifications of unchecked urbanization. When these settlements were developed, neither distance from work place nor gasoline prices much mattered in determining the locations of new constructions. These places are relics from an era that was entirely defined by a belief in unlimited growth, of bigger is better. The startling extent of those practices, and their inherent wastefulness, come to light in Gielen's pictures—as if looking at a microcosm of non-sustainability through a giant magnifier.
Contributing essays by Johann Frederik Hartle, Galina Tachieva, Srdjan Jovanic Weiss, Susannah Sayler and Edward Morris contextualize Gielen's work by focusing on a range of aspects, from aesthetics to climate change and futurology. They also examine why taking a closer look at these places is particularly crucial at this juncture, when we are faced with a new wave of building booms in developing nations such as in China.
As most New Yorkers know, people are willing to shell out a hefty sum to live in a place where work and play are right around the corner from each other.  But as the article by Ken Layne in The Awl points out, the west coast is a somewhat different place.  UNLIKE New York City, which is crowded with restaurants, bars, and entertainment, as well as offices, design firms and businesses; Silicon Valley, which caters to programmers and tech companies that hire at $100k a year, offers few of the amenities that a nearby town like San Francisco does.  So, Layne concludes, residents are willing to spend hours of their day  making their way into the fortressed office parks of Silicon Valley, flanked by parking lots and boulevards, just to have a cultural reprieve to call home.
"Within the boundaries of a society largely living above its own means, an unregulated banking system that plays by its own rules, and a government that idly stands by as millions of homes are being foreclosed upon, there lies an absolute truth: the direction we're moving as a society has become unsustainable and toxic. [...] This is the new promise of the American dream." - Brad Ascalon
When you think of Suburbia, you inevitably think of the white picket fence. But the picturesque Suburbia you envision, never truly existed, and now, with an economy plunging, poverty rising, and people hurting, the truth has become too hard to ignore.
In this piece for the "Love It or Leave It" exhibition at New York's Gallery R'Pure, going on now until June 1st, Brad Ascalon has inverted this typical Suburban symbol in order to comment upon the state of the American Dream – today, "nearly impossible for most Americans to realize."
More Photos of Brad Ascalon's "The Dream" after the break…
For more on Suburbia, check out our Burbs Going Bust Infographic and our popular Saving Suburbia series – Part I: "Bursting the Bubble," on the damaging Suburban Myth.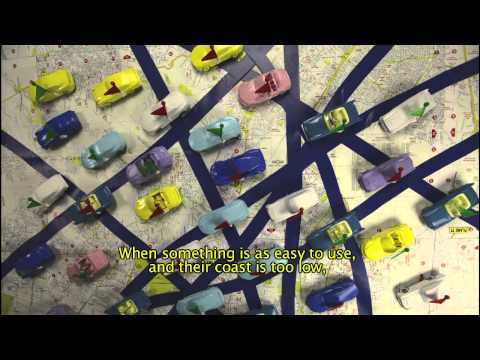 The video above, produced by ITDP Mexico is a surprisingly fun look at the dire traffic situation in Mexico City. With the help of two Barbie Ken dolls (who else?), the video describes two types of drivers: the Everyday Driver, who drives everywhere no matter what, and the Shadow Driver, who drives only when it's most convenient.
The situation facing Mexico City isn't too far off from that facing American Suburbia (as our infographic "Burbs Going Bust" and our two-part "Saving Suburbia" series recently highlited). The 'burbs, designed to convenience the Everyday Driver, have essentially turned Shadow Drivers into Everydays. Hence why passenger cars account for up to 50% of greenhouse gas emissions in some car-intensive communities in the U.S.
It gets you thinking… if we could design Suburbia for the Shadow Drivers (or the "Disencarchised" Driver, who can't afford a car at all) and make driving less convenient for the Everydays, then maybe we could convert the Shadow drivers (to the "light"side) and increase the demand for walkable streets and denser communities.
For more on Suburbia: Infographic: Burbs Going Bust and The Saving Suburbia Series - Part I: Bursting the Bubble & Part II: Getting the Soccer Moms On Your Side.
For decades the suburbs and the American Dream went hand-in-hand: a house with a yard and a white picket fence. It was the alternative to the hustle and bustle of urban living, a peaceful place to raise a family. Instead of letting the suburbs dwindle away, resulting in unkempt ghost towns, we should begin thinking about how to retrofit the suburbs for the needs of our changing culture, reinventing Suburbia as a sustainable alternative to urban life.
For more on understanding the reality and difficulties of redesigning Suburbia check out this two part series on Saving Suburbia by Vanessa Quirk: Saving Suburbia Part I: Bursting the Bubble and Saving Suburbia Part II: Getting the Soccer Moms On Your Side.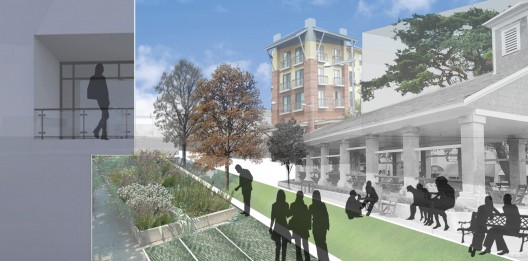 This Article is the second of a two-part series, "Saving Suburbia." If you missed Part I, "Bursting the Bubble", you can find it here.
Suburbia has a problem. We've known it for a while. We've chosen to ignore it.
Why? Because the suburbs are difficult. And just… not sexy. We have become so enamored with our cities, with their various complexities and potential for sustainability, that the suburbs, with their single-family home and deep carbon footprint, seem a backwards architectural wasteland.
But letting the suburbs die would be a tragic, missed opportunity. As I noted in "Bursting the Bubble," Suburbia is not just the Myth it propagates (wealthy commuters and Soccer Moms in SUVs, carelessly polluting the environment and resistant to change), but a large, growing "other": the suburban poor, stranded and imprisoned by sprawl.
To reverse Suburbia's built hostility to its "other" and the very Earth itself, we must re-imagine the 'burbs as nodes of density within a well-connected network. But to make this reality, we must get the Myth's "chosen ones" on our side, which means versing ourselves in a tricky (and political) discourse.
We cannot just be Architects; we have to be part of a community-driven movement.
Poverty and violence, boarded windows and weedy lawns, immigrants jammed "by the dozen into houses conceived for the Cleavers." In "Can this Suburb be Saved?," New York Magazine critic, Justin Davidson, begins by painting a bleak but realistic picture of suburbia today. It's these conditions that are making thousands flee to cities everyday, making headlines predict the "death of sprawl." [1]
Davidson makes the case, and I agree, that the suburbs and architects need each other – now, more than ever. But Davidson ends with a defeatist conclusion. He seems to say, it's just too difficult, that, ultimately: "suburbanites like the suburbs." There are suburbanites like these, who believe nothing's wrong, who shudder at the word "density." But who are they? The ones jammed "by the dozens" into single-family homes? The ones scraping to make ends meet?
Herein lies the great complication of suburbia. Its myth – of wealth, whiteness, a steady-job in the big city, and a space to call your own – keeps getting in the way of the big-picture: the thousands in need of change. If architects are to "save" the suburbs, and redesign them based on their multiple realities, they'll have to start by separating themselves from the myth. By bursting the 'burbs's bubble.
Read about the Myths and Truths of Suburbia, after the break…
During the housing boom in Phoenix and the surrounding suburbs, enormous swaths of land were graded and prepared for endless subdivisions as far as the eye could see. Following the burst of the housing market and prolonged recession, these unfinished construction sites have sat vacant – remnants of unbridled optimism in the Valley of the Sun. A recent article on NPR.org discusses some of the alternative visions for re-appropriating these phantom lots that propagate the greater Phoenix area. Various methods of breathing new life into these chasms left behind include rezoning the numerous residential lots for mixed-use, or tearing up the infrastructure and letting nature take back control. For those unfamiliar with the rapid pace of development that was taking place prior to the recession, Maricopa, a small town just south of Phoenix was approving over 600 residential home permits per month. With an inventory of over 16,000 dedicated to residential homes, the measures that are required to remediate the impact of such an ambitious plan need to be ingenious.
While the Southwest has suffered from the housing bust significantly more than many other states, it will undoubtedly always remain a destination for its unequaled sunny days, warm weather and amazing desert landscape.
See this article on similar circumstances in the Rust Belt region.
Photographs: Wikimedia.org User: Gobeirne
References: www.NPR.org, www.philly.com