Architects: Anmahian Winton Architects
Location: Boston, MA, USA
Principal in Charge: Alex Anmahian
Project Managers: Nick Winton, Todd Thiel
Project Architect: Sydney Schremser
Project Team: Joel Lamere, Makoto Abe, Aaron Stavert, AIA, Mazen Sakr, Garth Goldstein, Andrew Plumb, AIA, Julia Davis, AIA, LEED AP
Civil Engineering: Stantec
Marine Structural Engineering: Childs Engineering Corp.
Structural Engineering: Richmond So Engineering
MEP/FP Engineering: RW Sullivan Inc.
Landscape Architects: Stantec
Lighting: LAM Partners
Project Area: 30,000 sq ft
Budget: $11.45 M
Project Year: 2008
Photographs: Mike Champion, Peter Vanderwarker, Jane Messinger/Anmahian Winton Architects, Sydney Schremser/Anmahian Winton Architects
The Harleston Parker Medal is awarded each year to "the single most beautiful building or other structure" built in the metropolitan Boston area built in the past 10 years. Anmahian Winton has achieved this with its innovative and sustainable design for the Community Rowing boathouse in its first year of eligibility.
Since opening last year, the CRI project has enjoyed an unprecedented level of public interest and acclaim largely due to its innovative design. The building has had an immediate impact on the mission, image, and visibility of CRI. Membership in CRI has doubled since the building opened, and the project has reinvigorated a neglected stretch of public land as an active public park for an underserved urban neighborhood. The Executive Director reports that both the staff and membership feel that they are making a positive contribution to the riverfront and the city of Boston.
The design of CRI seeks to expand the vocabulary of rowing facilities on the Charles River by exploring abstract commonalities between rowing and architecture, and by engaging relevant regional precedents outside the realm of boathouse antecedents, such as tobacco barns and covered bridges.
As a site strategy, a long narrow footprint is divided to engender a public court that establishes both a visual connection to the riverfront, as well as a functional connection to the boathouse: a public invitation to the Charles River and CRI.
Enhanced occupant comfort and a significant reduction in energy consumption are achieved by the natural light and ventilation coming into the building through louvers, bi-folding operable vents, and glass shingles. While each type of cladding satisfies functional needs, their experiential effects are more varied: The surface of the building is intended to transform with one's movement around the building, not unlike the rhythmic punctuations in the fluid medium of the river.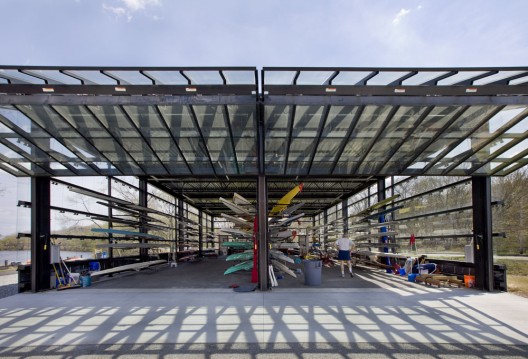 Robert Campbell, FAIA wrote in the Boston Globe, "the architecture of the exuberant new Community Rowing Boathouse in Brighton is such a joy. This is a building that is happy to look, fresh, new, democratic and up-to-date… This is one of the best new pieces of architecture in Boston."

Products in this project
Lavatories

by Toto

Water closets

by Zurn

Shower System

by Symmons

Faucets

by Elkay

Lavatories

by Elkay

Urinals

by Toto

Faucets

by Zurn
Structural system

by Mandate Erectors

Metal/glass curtainwall

by Kawneer North America

Wood

by Prodema
Insulated-panel or plastic glazing

by Centria

Upward-acting bi-fold doors

by Wilson Door Company

Window: Aluminium

by Schüko

Special doors (oversized swing doors below balconies)

by Extech Exterior Technologies

Sliding doors

by Schüko

Entrance Doors

by Kawneer North America

Special doors (overhead door)

by Wayne Dalton/Moulton Custom Doors of Vermont

Window: Aluminium

by Kawneer North America

Sliding doors

by Dorma

Metal Doors

by de la Fontaine Industries, Inc.
Drinking fountains

by Haws

Utility sink

by Fiat

Faucets

by Chicago Faucets
Interior ambient lighting

by Lightolier

Exterior lightning

by BK Lighting

Task lighting

by Alkco

Interior ambient lighting

by Lithonia

Interior ambient lighting

by Bartco

Exterior lightning

by Bega

Downlights

by Lightolier
Suspension grid

by Armstrong

Acoustical ceilings

by Ecophon

Glass

by PPG
Roofing

by American Hydrotech, Inc.
Elevators/Escalators

by Kone Elevators
Cabinetwork and custom woodwork

by Fabrizio Woodworking
Tile

by Dal Tile

Paints and stains

by Sherwin Williams

Paints and stains

by Tnemec