Architects: Asadov Architectural Studio
Location: Moscow, Russia
Architect In Charge: A.Asadov, AAAsadov, O.Grigoreva
Year: 2011
Area: 5,980 sqm
Consultant: S.Kulish
Engineer: G.Karklo
Interiors: Laboratory of Virtual Architecture – D.Kulish, A.Karpova
Photographs: Andrey Asadov 
«Your body – from wingtip to wingtip – again and again said Jonathan, – is actually the idea embodied in a form accessible to your vision. Severing ties that fetter your thought, and you sever your ties that fetter your body…"
Richard Bach "Jonathan Livingston Seagull"
Initial situation – the picturesque valley in the bend of the Moskva River, filled with a sense of freedom and space, inspired by the image of gulls like squatting on the coast and has spread its wings to soar up into the air again. Free plastic form emphasizes a sense of lightness and flight. Numerous pergolas and awnings covered form interstitial spaces that connect the interior with the landscape.
The interior of the center houses the two tennis courts, indoor and outdoor basin, fitness center, spa, kids club and a cafe. From the river to the center of the building adjacent to outdoor sports.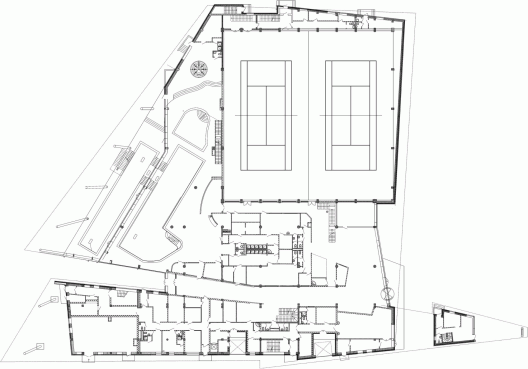 * Location to be used only as a reference. It could indicate city/country but not exact address.