Architects: Christian Pottgiesser- architecturespossibles (Paris)
Location: Paris, France
Client: private
Design Team: Christian Pottgiesser (architect) , Alejandro Ratier (designer), Pascale Pottgiesser (artist)
Engineer: Joël Betito
Assistant: Dr. Florian Hertweck
Furniture design: arch. Raphael Budin (low table + dining table)
Contractors: ERCN (main construction), Carrières du Bassin Parisien (masonry), Menuiserie du Val de Loire (carpentry), ATN (landscaping), CMBR (windows), Miroiterie MARUT (mirrors), ESBEI (waterproofing), EGEBAT (plumbing), SAP/ABD (paintwork)
Design year: 2002
Construction year: 2003
Constructed area: 140sqm extension, 40sqm entrance + winter garden,
160sqm terraces + gardens + 160sqm existing house
Budget: private
Photographs model: Pascale Thomas
©Photographs: Gert von Bassewitz (Hamburg)
In 1927 the imitation of historical architecture came to a culmination in the winning design for the "Palais des Nations" in Geneva (transl.: Palace of Nations, HQ for the League of Nations, now the 2nd largest United Nations Office) .
Henri Paul Nénot, one of the winning architects, and since 1895 holding the department chair for architecture in the "Académie des Beaux-Arts" in Paris, confirmed in an interview that he was very happy for having reached the Beaux-Arts 's goal: defeating that certain barbaric architecture that has been around for a few years. With that scandalous architecture he meant what we know now as modern architecture. Needless to say that Le Corbusier, also a participant in the competition, was very disappointed by the results and even more by that remark since he published 'Vers une architecture' – his advocation for the concept of modern architecture-  four years before (1923). And yet it became the most influential book on architecture to date.
The transmission and evolution of rationalistic ideas in writings by Abbé Laugier (1713-1769), Jean-Nicolas-Louis Durand (1760-1834), Eugène Viollet-le-Duc (1814 – 1879) and Le Corbusier (1887-1965) were the hotbed for the setup of a theory of modern architecture. Wasn't it for the place of birth, the place of death or the city where they had spent a lot of time and work, Paris is the setting they all had in common.
And let it just be that city so rich of history and spirit where a simple but remarkable extension enriches the street view with its rationality, in contrast to its neoclassical neighbours.

An existing three story small mansion needed to expand towards the backyard to accomodate seven inhabitants.
Les "Parcs et Jardins" (Parks and Gardens), the existing building codes and the owner requested that the existing garden at street level were to be kept in the project. The view towards the old building was not to be obstructed and a garage and entrance hall were to be implemented by the street. No more than a street level plus one upper level were allowed. And the parisian basin rock were to be used in the façade. (The Louvre has plenty of it.)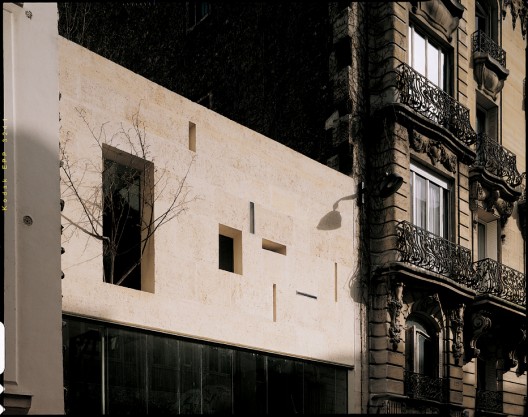 The owner wanted six spaces, all named by its activity and primary requirement: entrance, cooking/eating/light, hosting/light, hosting/not being seen/light/garden, watching movies with friends, car.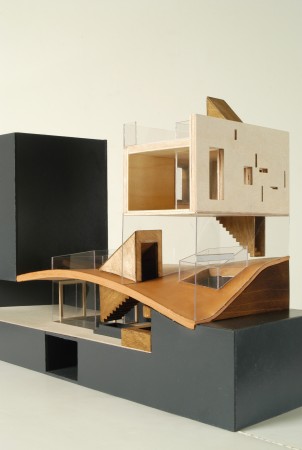 The power of three dimensional design proofed its right in a single amorph surface that structures all these complex demands. Linking the doorstep of the old building and the new entrance it stretches, curves and bends, adapting to  the program beneath, above and in face of it. From the street it's acting in stealth mode, where the only element drawing attention is the few hundred tons weighing brick block, hovering above the garden and two glass walls, pierced by a preserved lime tree.

The urban garden serves as the upper skin of the concrete surface, containing the kitchen, dining area and garage. These are well lit by two patios, piercing through the surface.

A prototype for the domestic elements showing their sculpted stand-alone character is to be found in the oversized chimneys for stairs, not touching the ground.


The textural contrasts, vivid colours, sensuous aesthetic and accentuation of the building's garden pay hommage to Luis Barragàn's work (1902-1988).
Everything seems designed to be forgotten, construction details sparkling in their abscence.


It feels as if it 's drawn from human necessity, lacking attention seeking frivolity without purpose, suiting the urban fabric, silent but radiating intelligence, in line with the french rational tradition. A protection from urban city business,  hiding underground, under a garden camouflage. Serenity in the disposition of materials, details, architectural elements and residential activities makes living in it an experience for the architectural mind.
By proper analysis, imagination deciphered the parisian urban code. It enacts a strange different logic, setting up a new but rational typology.