A minimalist, tiny-living space in Melbourne, called the Pocket House, designed by Whiting Architects collaborated with Fisher & Paykel to design a space that makes use of every inch. Having a footprint of only 96 m2, the conceptual challenge behind this renovation, was to prioritise the quality of space over quantity.
The owners of the terrace, a young, professional couple with a large dog, desired a space they could comfortably live in, that also has enough room to entertain guests. With this in mind, the design of the kitchen as a social space was an important element in the well-thought out design. The owners love to cook and so the quality of the appliances was especially important.
Whiting Architects worked closely with Fisher & Paykel to ensure the balance of aesthetic and functionality could be achieved within the limited space. Trying to play down the look of the kitchen, they opted for functional appliances that blended seamlessly into the cabinetry, and ensured the architects could create usable spaces amongst the functional requirements. This allows a clean connection between the living, dining, kitchen and utility areas.
Hidden in plain sight, the appliances are discreetly placed within cabinetry and doors to match the desired look. The integrated fridge freezer and DishDrawer™, although large in capacity, are hidden away completely from sight. The two-in-one practical washer dryer is concealed under the stairway. Where appliances are exposed, such as the oven and hob, the dark, minimalist design blends in with the dark timber joinery and monochrome palette.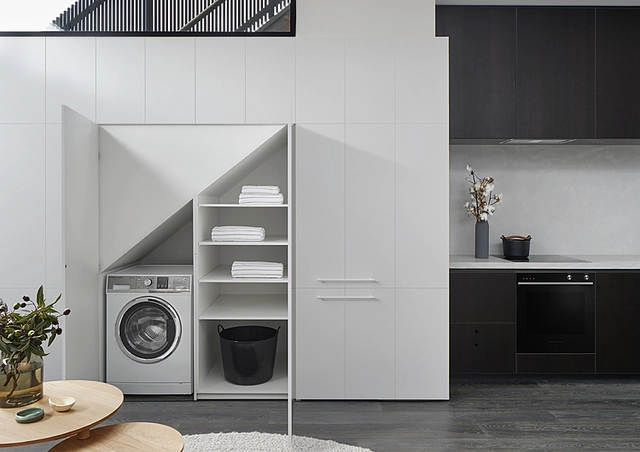 The appliances from Fisher & Paykel make the most efficient use of space, this had a big effect in the tight area.
The appliances used from Fisher & Paykel included:
600mm single self-cleaning built-in oven
600mm Induction Hob
600mm Integrated Insert Cooker Hood
600mm Integrated Fridge Freezer
600mm Integrated Single DishDrawer™ Dishwasher, tall
Front Loader Washer Dryer Combo, 7kg + 4kg