In 2021, the Foundry Seoul gallery and flagship Gucci store opened within one building located in Hannam-dong, one of Seoul's most lively districts. Foundry Seoul is an extension of the world-famous Pace Galley, while the Italian fashion brand's "Gucci Gaok" is the second flagship store in Seoul. Together, the two spaces act as an intersection between art and fashion, providing visitors with a range of experiences.
Cladding Materials - Aluminum Foam Panels
Cymat's ALFG-12.7-MD-2S Alusion™ stabilized aluminum foam panels are used to clad the facade and interior walls of the structure. The aluminum panels create a modern aesthetic with unique textures, complementing the Foundry Seoul gallery and Gucci store.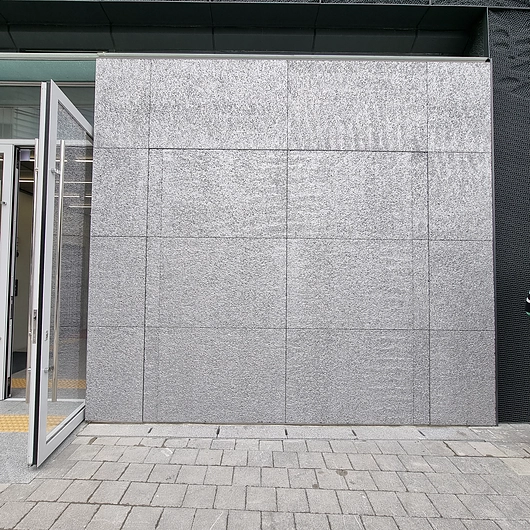 Alusion™ Stabilized Aluminum Foam Properties
100% recyclable, and contains up to 100% recycled content
Acoustic Absorption Properties
Non-Combustible with a flame spread of zero
Highly corrosion resistant
The strength, durability, and resilience of aluminum
Luminous aluminum color which can also be powder coated or painted in limitless color choices
Wind load resistance of up to 356 km per hour (221 miles)
Cymat's Alusion™ Stabilized Aluminum Foam panels are buoyant, flame and corrosion resistant, and non-combustible with a flame rating of A1. The surface of the lightweight aluminum panels can be left in its solid form or treated with surface preparations that create distinct textured looks.
Alusion™ Stabilized Aluminum Foam panels can be utilized for both interior and exterior applications. The panels are produced by injecting air into molten aluminum, which contains a fine dispersion of ceramic particles. These particles stabilize the bubbles formed by the air.
Project Details
| | |
| --- | --- |
| Location | Seoul, South Korea |
| Architect | intg space |
| Year | 2021 |
| Korean Exclusive Representative | AEDS / Advanced Essential Design Solutions |
| Product Used | Alusion™ Stabilized Aluminum Foam panels ALFG-12.7-MD-2S (B) |