Ottawa's River Dental office, adjacent to the Rideau River and Rideau Canal, inspired an office design concept like no other. Architects at Parallel 45 Design Group emphasized the use of natural products and sustainable design. Parallel 45 paid tribute to Ottawa's historic waterways through a distinctive combination of bespoke lighting and wood. A-Light contributed to the unique office design with the Accolade luminaire, a lighting fixture for direct applications.
Design Concept
Ottawa was founded on the lumber industry, and logs floated through the city within its river system. As an insightful nod to this history, the River Dental office is adorned with warm wooden walls and floors. The design intent is also dramatically captured through lighting. In the clinic's main corridor, and visible from the entrance, a "waterfall" of recessed linear luminaires covers the ceiling and then "cascades" down the wall. Accolade D5 fixtures from A-Light were used to create this unique masterpiece.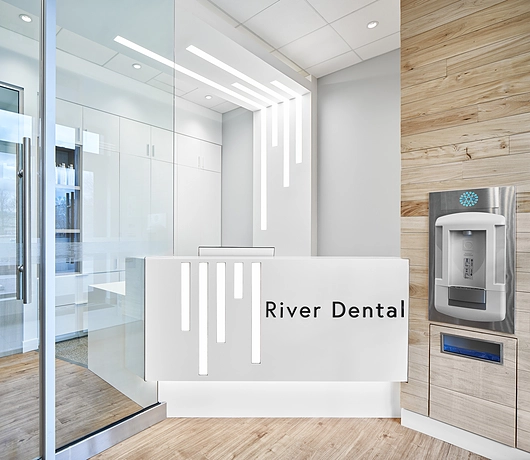 Lighting Features
The Accolade lighting system is ideal to accommodate various ceiling conditions such as t-bar, slot, trimless for gypsum, tile, and more. To make the luminaire more customizable and user-friendly, Accolade D5 comes equipped with occupancy sensors, daylight sensors, and LED downlight modules. Accolade is made of 60% recycled aluminum, further contributing to the sustainable approach of River Dental office.
Accolade D5 luminaires are staggered down the corridor's ceiling, leading away from the waterfall, emulating logs floating down the river. Accolade D5 delivers these refined lines and patterns of light with its patented HE Tech™ lens which combines optical diffusion and high-performance reflector design. The dental office is eco-friendly and requires eco-conscious lighting. Thus, high-performance LEDs in the Accolade D5 luminaires have low energy consumption, contributing to the office's energy efficiency, and have an average bulb life of 50,000 hours.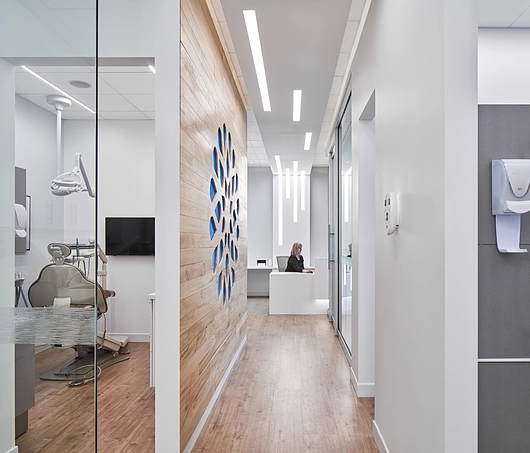 Project Details
| | |
| --- | --- |
| Location | Ottawa, Ontario, Canada |
| Year of completion | 2019 |
| Architect | Parallel 45 Design Group Ltd. |
| Products used | Accolade |