Budapest is a historic city with a unique culture and some of the world's most refined and exquisite architecture; it overflows with powerful visual statements, inspiring awe wherever one looks.
Recently, two of Sintered Stone brand Neolith®'s most popular surfaces, Calacatta Polished and Iron Frost, were specified in the newly refurbished Marriott Hotel, Budapest.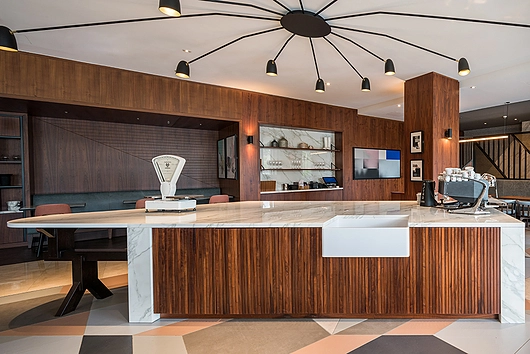 In such an eclectic destination, globally renowned hotel group Marriott knew it would have to pull out all the stops to create a space that would wow guests and visitors as soon as they entered.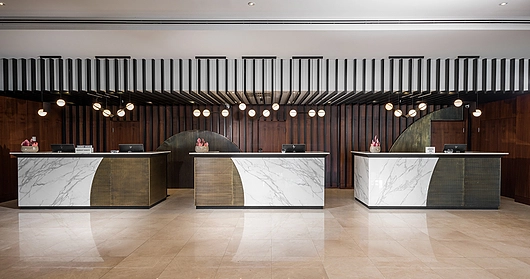 Working with Twenty2Degrees, the operator was keen to incorporate materials into the design which could perform as well as they looked. Further, the group has a robust sustainability strategy, so anything specified has to have low carbon credentials, embodying its aim to achieve Net Zero 2050.
Neolith, which is manufactured in a carbon-neutral environment, quickly became the surfacing material of choice early on in the design process.
A Bright Start to the Day
It's well known that breakfast is the most important meal of the day, and prepares tourists for a day of sightseeing or business travelers for a conference. First impressions count, and the décor can be as important as the sustenance in establishing a guest's mood as they acclimatize to the morning.
Marriott Budapest's Morning Room certainly lifts the spirit and senses. Central to this space is an expansive breakfast bar topped with cool, crisp, and gleaming Neolith Calacatta Polished, which is also used to partially clad the base. In a room dedicated to dining, cleanliness and hygiene are crucial factors.
Neolith's inherent waterproof properties, scratch resistance and ability to be fitted with seamless joints meant it was a natural choice in a setting where food and drink were to be prepared, displayed, and consumed on a daily basis.
Down to Business
Creating the perfect environment for doing business is a delicate balancing act. First, you need to establish a formal setting in which to work, yet also make the setting comfortable, welcoming, and conducive to collaboration.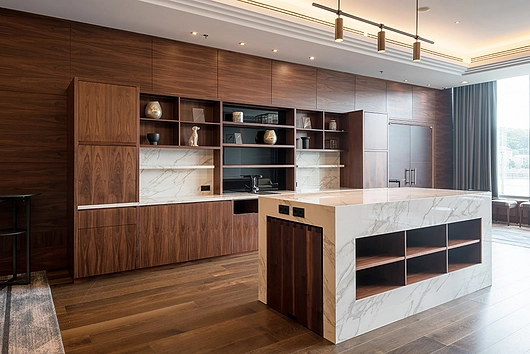 The overall interior design should not be too busy and make plenty of provisions for natural daylight to maintain attention and motivation. In keeping with the rest of the hotel, Marriott decided less is definitely more for its main meeting room. Dark wood paneling and muted gray walls are punctuated by two statement shelving units in Calacatta Polished, helping to create a look that means business.
Raising the Bar
At night, the hotel comes to life as a centrally located social hub where the great and good of the 'Queen of the Danube' gather to enjoy its cool, contemporary and sophisticated atmosphere.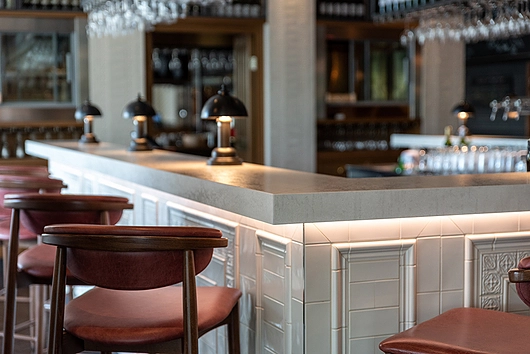 Central to this communal area is an elegant, white-tiled bar, which stands out against a varnished parquet floor. However, the most striking feature is a countertop specified in one of Neolith's most interesting surfaces, Iron Frost, which combines shiny, metallic details on a sheer white background. It's definitely the place to be seen for pre-dinner drinks or a couple of nightcaps in this magical and enchanting city.
About Neolith
All Neolith slabs are 100% natural and produced in a carbon-neutral environment, making them appropriate for specification in any professional or residential surfacing application. Neolith is also a safe and hygienic material, never compromising on performance and visual appeal.