The Green Flash Brewing Co., founded in San Diego, is a super-hero of the craft beer renaissance. Starting in 2002, the small passion project exploded into a nationwide phenomenon with the advent of their forever game-changing West Coast IPA. Since then, GFB Co. has not only tripled their operation but has continued to outdo themselves with experimental, limited edition, seasonal offerings each year.
Much like their craft beer offerings, Green Flash Co. likes to push the limits on their design, development, and process. That's why, it's was no surprise when they decided to expand to Virginia Beach, on the east coast, to open up their third brewery.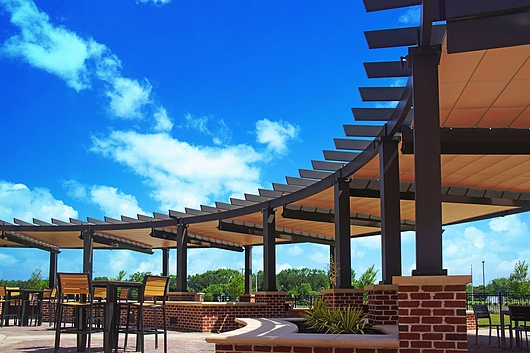 | | |
| --- | --- |
| Products | Retractable Canopies, Gutters |
| Project Year | 2017 |
| Location | Virginia Beach, Virginia, USA |
| Partners | Timmons Group, The Miller Group |
| Fabrics | Ferrari Vanilla |
Despite sprawling nine acres of fire pits, bocce ball courts, tasting room, and private party area, the new brewery is still capable of pumping out 100,000 barrels of quality craft beer a month. However, the piece de resistance of their east coast operation is their one-acre beer garden. There is nothing better than a truly fresh pint of beer on a hot summer day unless of course, it's too hot or wet.
This is where Timmons Group comes in. Responsible for creating a landscape design that complimented the Green Flash Brewery, David Chirico of Timmons measured out each and every detail, literally. In order to accentuate the company logo on the adorning wall, above the patio, Green Flash Co. requested a roundhouse type pergola that would radiate out from the decal. Never one to disappoint, all the details of the landscape layout were set in degrees from a center point, sprawling around the perimeter of the patio.
Now, David had to provide shade. That's where we came in.
Getting the ShadeFX canopy system to Virginia was only the first step in a long process, much like a perfectly crafted beer, the process matters. For that reason, the company was thrilled to learn that it would be working with Mike Arnold, project manager of The Miller Group. As the general contractor, Mike was responsible for ensuring that all things, drawings, plans and material, were in working order. This included the installation of the nine motorized ShadeFX canopies and gutter systems.
Working with true professionals in David Chirico of the Timmons Group and Mike Arnold of the Miller Group, ShadeFX was able to craft an outdoor experience that reflects the Green Flash Co. brand, product, and experience.