In February of 2017, Incarnate Word Academy, one of the oldest high schools in Houston Texas, unveiled its brand new 18,500 square foot academic building. The all-girls school, in operation since 1873, is now ready to take on the future.
Designed by SBWV Architects and constructed by EE Reed Construction, the expansion provides students at the Academy with inspirational spaces that encourage them to reach their academic and spiritual potential. These improvements include, but are not limited to: collaborative learning spaces, a performing, and fine arts studio with floor-to-ceiling windows, a garden courtyard, and a rooftop patio.
For the rooftop patio, SBWV was looking for a solution that was stylish, practical, and durable. The products had to provide sun protection, but also able to withstand the severe weather that seasonally touches down on Houston. Due to its location off the Gulf of Mexico, Houston has been hit by heavy thunderstorms, tornados, tropical cyclones, and hurricanes, in some instances, leaving severe damage to the city.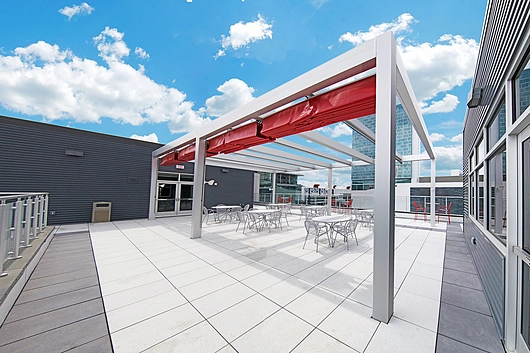 ShadeFX worked closely with SBWV and EE Reed to ensure four 20X12 rope-operated canopies fit seamlessly into their design and construction. By ensuring maximum coverage, we also ensure maximum use of the rooftop patio space.
Project Details:
| | |
| --- | --- |
| Project Year: | 2016 |
| Location: | Houston, Texas, USA |
| Products: | Retractable Canopies |
| Partners: | SBWV Architects, EE Reed Construction L.P. |