Rafael Viñoly Architects have just announced the official groundbreaking of their Math Institute at the University of Oxford. Prior to the project, Oxford's mathematics department was scattered across the University in different locations. RVA was commissioned to provide a design solution that provided a centralized building for the entire department, to create a balanced environment for academics' need for privacy with the increasing importance of interdisciplinary collaboration.
More about the design after the break.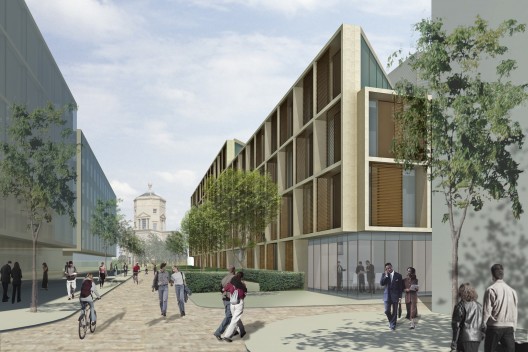 The new facility will provide workspace for a diverse community of over 500 mathematical researchers and support staff, including faculty, research fellows and postgraduate students.  Plus, the institute will contain 3 theaters, the largest holding 366 people, to provide a much needed venue for department and university wide events and lectures. The main element of the design is a huge atrium stretches the entire length of the building to establish visual connections between the floors.
The elevation is a direct reference to the Mathematical Institute's model for faculty offices, and this manifests itself through the cellular stone grid which holds the offices.  Solar screens animate the exterior,  while a sedum green roof will increase the building's insulation values, control storm water runoff, improve biodiversity and reduce the urban heat island effect. The design will also provide roughly 500 bicycle parking spaces to encourage faculty and students to use alternative transportation (already a popular option in bike-friendly Oxford).  Such features will lower the building's carbon dioxide emissions, with a stated goal of BREEAM Excellent.