When one hears the term masonry architecture, digital fabrication and automated construction processes are probably not the first ideas to come to mind. By its very nature, the architecture produced with stone masonry is often heavy, massive, and incorporates less natural light than alternative methods. However, with their research proposal for "Smart Masonry," Zaarchitects are proposing to change masonry buildings as we know them and open opportunities for digital fabrication techniques in stone and other previously antiquated materials. Read on after the break to get a glimpse of what these new masonry buildings could look like and learn more about the process behind their construction.
With the main challenge of providing an environment for the prosperous IT business incubator in Kharkov city, the design by ZA Architects creates favorable conditions for the creation and development of the new ideas in the multi-component environment. The design backbone is the provocation of communication between people, casual acquaintances, experience sharing, receiving of new knowledge and social events of all kinds. More images and architects' description after the break.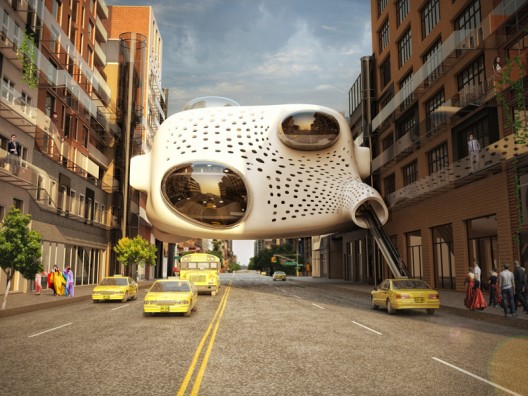 In their second prize winning design in the international competition, ZA Architects aimed at developing a few new principles of hotel organization. Instead of separating visitors from the environment, the architects intends to embed peoples' lives in local city life. For this reason, there is no hotel building itself, instead they propose hotel rooms placed in existing buildings (offices, residential) connected with web of hung pathways. More images and architects' description after the break.
Chameleon is a design of a dynamic interior which adapts to changing environment and can serve various purposes. The interior of the restaurant adapts to changing environment in the same way as the chameleon changes its color depending on its mood. The created space of the restaurant constantly resorts to mimicry and adaptation.

The design proposal by ZA Architects is intended to become a framework for further development of human activity in the exclusion zone around Chernobyl nuclear power plant in Ukraine. The backbone of the project is a mono-rail road with 4 stations, each having its own unique function. This environmentally-friendly and profitable railroad will cater for the tourist and industrial needs and can be implemented in several stages. More images and architects' description after the break.