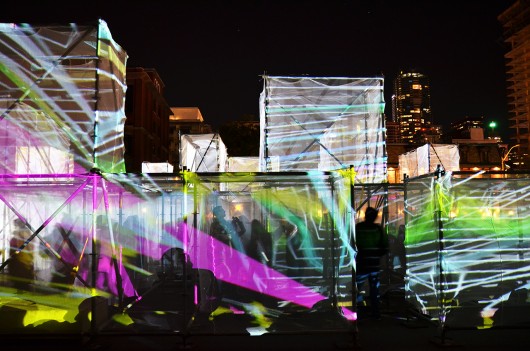 Colorful lights dance across translucent panels, illuminating the backdrop of Toronto's glowing downtown high-rises. In their three-dimensional interactive installation entitled AMAZE, design and research laboratory UNSTABLE has created a multisensory experience like no other. Complex branching passageways challenge visitors to find their own path through the ever-changing structure, as if wandering through a vivid psychedelic dream. Becoming an integral part of the installation, visitors are met with dynamic shadows of the crowd and the urban landscape beyond before finding their way out of the maze.
Designed and directed by Iceland based architect Marcos Zotes and his studio UNSTABLE, their Pixel Cloud installation is the winning competition entry for the Reykjavik Winter Lights Festival 2013, organized by Höfuðborgarstofa, Orkusalan and the Iceland Design Center. The installation creates an opportunity for Icelanders to reconsider the use and management of their urban public spaces. With the current financial situation leaving a permanent landscape of obsolete scaffolding structures scattered across the city, this has resulted in urban scars that remind us of the fragility of their current society. This installation takes advantage of this condition by transforming an ordinary scaffolding structure into a fully immersive environment of light and sound in the heart of Reykjavík. More images and architects' description after the break.
The 'Your Text Here' participatory, site-specific light installation challenges the condition of the city constantly telling us what to do, what to think, and how to act. Using explicit visual language, a multiplicity of billboards, signs, images and symbols invade our public spaces in order to tell us something. The project by Marcos Zotes/UNSTABLE aims at empowering local communities by providing a tool that transforms people voices into citizen proclamations the size of buildings. You just submit an anonymous text message in a website through your mobile phone, and in turn it is automatically projected at large scale onto the façade of a building. More images and architect's description after the break.