If you made it to South By Southwest (SXSW) in Austin this year there is a good chance you were drawn to this 11-foot, steel vaulting structure known as Caret 6. Designed by OTA+ principle Kory Bieg and his 2013 design-build studio from the University of Texas' (UT) Austin School of Architecture, the CNC-fabricated structure was originally conceived to exhibit the prototypes and winning project from the TEX-FAB's 2013 SKIN Competition before being reassembled as part of the Next Stage and Renegade Craft Fair at the annual interactive, music, and film festival. Grounded by a central catenary vault, the diamond-celled structure supports two cantilevering arms and a third cascading vault that forms a base for showcasing exhibition content. 
More information from the design team, after the break…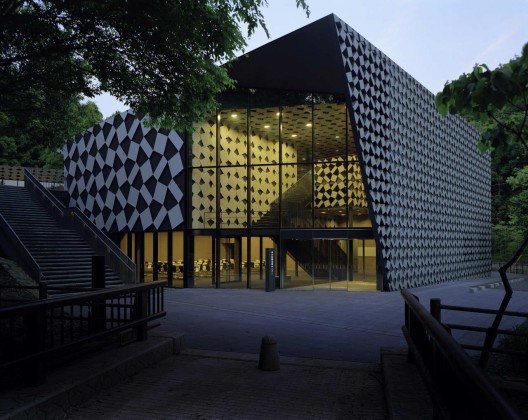 Architects: Kengo Kuma & Associates
Location: Ota City, Gunma, Japan
Title of the Project: Museum of Kanayama Castle Ruin, Kanayama Community Center
Client: City of Ota, Gunma Prefecture
Site Area: 3318.69 sqm
Project Year: 2009
Photographs: Takeshi Yamagishi
The proposal for the New Taipei City Museum of Art by OTA+ challenges the traditional definition of a museum and the conventional relationship between building and site. By freeing the ground plane of enclosed semi-public space, the interface between the museum and the site offers a new experience of a museum; one that is open, friendly, and welcoming. More images and architects' description after the break.