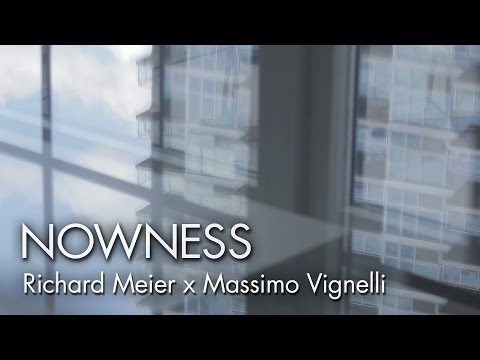 This past Tuesday, design icon Massimo Vignelli passed away at the age of 83. To commemorate his memory, we're re-publishing a fantastic video from NOWNESS  in which Vignelli and Richard Meier discuss their fruitful collaborations and their long friendship. Learn more about the pair's collaborations and read Meier's full, touching statement on his late friend and neighbor, Massimo Vignelli, after the break…
Our friends at NOWNESS have shared with us this mesmeric film by Johnnie Shand Kydd that captures the illustrious modernist Richard Meier and multi-disciplinary creator Massimo Vignelli as they reflect on their respective crafts, city life, and enduring friendship. Filmed inside the minimalist offices of Richard Meier & Partners on 10th Avenue and West 36th Street in New York City, the two powerhouses discuss their collaboration on the firm's forthcoming monograph, Richard Meier, Architect Volume 6, chronicling the stark, white, rationalist buildings that define the firm's aesthetic. Enjoy!
Continue after the break to browse through iconic works by Richard Meier & Partners.