Since the beginning of the Modernist era a century ago, concrete has been appreciated by architects for its strength, versatility and sculptural potential. For many countries, concrete played a key role in their recovery from the Second World War, and in their continued modernization during the second half of the 20th century. But in recent years – while it is still as widely-used as ever - concrete has fallen on something of an image problem, with criticisms of its environmental impact and its aesthetic appearance becoming commonplace.
That hasn't stopped some companies continuing to innovate with concrete. Among these companies is TAKTL, a facade panel designer and manufacturer that works exclusively with Ultra High Performance Concrete (UHPC). To find out what UHPC can offer to architecture, ArchDaily spoke to TAKTL about the potential of this material, and the future of concrete construction.
Before computer daylight simulations were used to optimize the atmosphere and energy in buildings, generations of builders developed simple principles to create the best windows for their site. Two lighting experts have studied these traditional openings in buildings to find inspiration for more sustainable designs today. Francesco Anselmo, a lighting designer at Arup, and John Mardaljevic, Professor of Building Daylight Modelling at the School of Civil & Building Engineering of Loughborough University, have analysed the sun and skylight variations from northern regions like Stockholm down to the equator in cities like Haiti or Abu Dhabi.
Read on to learn more about the variety of traditional windows.
The Brazilian coastal city of Fortaleza, one of the host cities for the 2014 Brazil World Cup, will soon be home to one of the world's largest aquariums. Designed by Leonardo Fontanelle (Imagic Brasil), Acquire Ceará is projected to be the third largest building of its type and is intended to provide a lasting beacon for tourism in the area. Zahner, a US company known for their ability to design and create complex façades (including the Petersen Automotive Museum by Kohn Pedersen Fox) have been tasked with constructing twenty three curving "legs" which support the structure of "the Manta and Sea Urchin-shaped roof surface". Zahner's President, William Zahner, believes that "this is perhaps the most intricate building ever constructed in the Americas."
See Zahner's prototype and images of the aquarium after the break.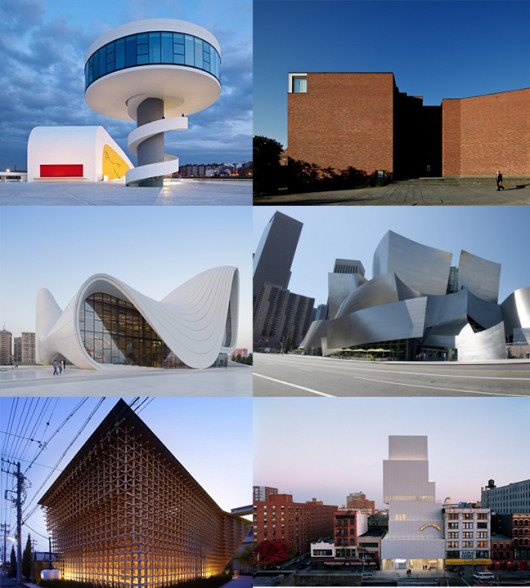 In case you missed it, we're re-publishing this popular post for your material pleasure. Enjoy!

To celebrate the recent launch of our US product catalog, ArchDaily Materials, we've coupled six iconic architects with what we deem to be their favourite or most frequently used material. From Oscar Neimeyer's sinuous use of concrete to Kengo Kuma's innovative use of wood, which materials define some of the world's best known architects?
In case you missed it, we're re-publishing this popular post for your material pleasure. Enjoy!
To celebrate the recent launch of ArchDaily Materials we've brought together five projects with fantastic façades, from Viñoly's Dolby Regeneration Medicine Building in San Francisco to Holzer Kobler's PALÄON in Schöningen, Germany. A building's envelope is often people's first impression and, in recent years, have been one of the focuses of innovation in the design and construction industry. The projects we've collated show a glimpse at what's possible with façades and wall finishings.
Zahner, one of the world's foremost fabricators of façades, have launched new software to assist in design, fabrication, costing and delivery. CloudWall, part of Zahner's ShopFloor platform, is a web based programme which provides an interface for users to design and fabricate curving facades in metal. It is a tool that uses Zahner's "factory floor like a massive rapid prototype machine".
This month, we would like to introduce QuadroClad™ Glass Façade Panels, a great product from the Facades line of Hunter Douglas Contract.
Glass Façades systems offer aesthetic versatility and equally functional coverage. Hunter Douglas Contract's glass systems enable a wide range of design possibilities, including custom printing, shading/fritting, and more.
Fully integrated with their engineered carrier system, this system is ideal for facade retrofits, allowing a functional and aesthetic makeover of an entire building exterior, including over-cladding without the need for window replacement.
Main Features & Benefits
- Open-joint rainscreen façade systems control rain penetration, maintain ventilation, and provide thermal insulation.
- Range of transparent and opaque glass panels available.
- Glass panels fully integrate with QuadroClad metal and resin panels on the same plane.
- Ideal for both new construction and over-cladding projects. Full CAD and project management support available.
System Overview
- Width (max): 6 ft (1830 mm)
- Length (max): 12 ft (3650 mm)
- Glass Pane Thickness: 0.25 in (6 mm), 0,3125 in (8 mm), 0.375 in (10 mm)
- System Weight: 5.5 lbs / sq. ft (26.86 kg / sq. m)
- Max Size in Combination: Dependent on system type and configuration.
- Joint Width: 0.375 in (10 mm), 0.5625 in (15 mm)
- Coating: Color matched  Ceramic Frit
- Glass Pane Types: Low Iron (Colorless glass) or Clear Float (Green edge – Standard)
- Colors: Custom color capabilities including soil, semi-translucent, or translucent possibilities. All colors UV stable and chemical resistant.
Details
Panel Combinations
Specifications
- Panel Composition: Heat-strengthened or laminated glass to meet applicable building codes.
- Wall Bracket: Available for insulation thicknesses of 100 mm, 150 mm, and 200 mm (4 in, 6 in, 8 in). Slotted holes allow for adjustment of +/- 25 mm (+/- 1 in) in depth and +/- 10 mm (+/- 0.375 in) in horizontal plane.
- Support Rail: Extruded aluminum profile for maximum rigidity where required. Rails also serve as vertical drainage channel. Standard length 7,200 mm (283.5 in).
- Fixing Plates: Fully adjustable in vertical directions, with integrated anti-vibration gaskets.
- Panel Sizes: Complete range of sizes up to 1,500 mm x 4,500 mm (59 in x 117 in).
- Windows: Twin-color powder-coated or anodized aluminum profiles. Windows are thermally improved and incorporate  a range of mullions and transoms.
Project that use this product
The Orchard
This post is part of our ongoing effort to create a database of architectural products, a useful resource for all architects, with the help of our partners.
Hunter Douglas Contract is a business partner of ArchDaily.

As architects, we are always looking for new materials and technologies to make projects standout in terms of aesthetics, design and functionality. The type of products available and an architects' knowledge about its uses will have a direct influence in the design stage of a project.
Terracotta Façades panels by industry leader NBK (a Hunter Douglas company) bring a completely new dimension to designing the building exterior. Blending the latest technology for ventilated façades with urban tradition and materials, NBK terracotta tiles meet the highest standards for both architecture and design.