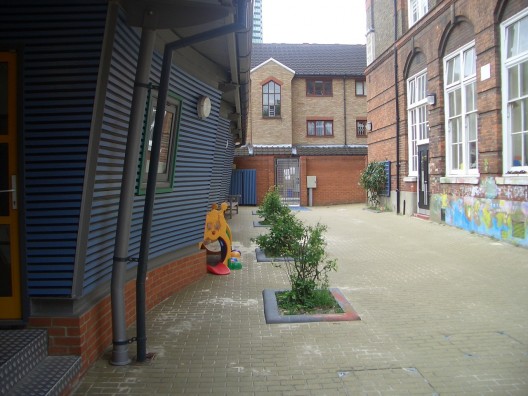 In 2007 I visited one of the most talked about autism buildings at the time, the Netley Primary School Autistic Unit in London, England. To my surprise, the building did not look or function in the way the publication material had depicted it.[1] The teachers I interviewed said the views from the nearly wall-to-wall, floor-to-ceiling windows were too distracting for the students. Their solution was to cover ¾ of the windows with paper. On top of making the building look somewhat rundown, this solution appeared to hinder the lighting design that originally depended on more daylight. The lesson for future projects seemed obvious; limit views and adjust the lighting accordingly. That is the conclusion I drew, and apparently so did Haverstock Associates, the firm that designed Netley.
After Netley, Haverstock Associates adjusted their approach for the recently finished Kentish Town School Autistic Resource Base. At Kentish Town, Haverstock scaled back the amount of exterior views by employing opaque walls that allow light in but limit views out. There are still a few large views to the outside, and the opaque walls are punctuated every so often with small clear glass windows, mostly above eye-level, but the approach is noticeably different from the one used at Netley (for Kentish Town project images see here). But is the conclusion about limiting views correct? Perhaps, but it might be something else. Maybe what is viewed matters more than how much is viewed.
April is Autism Awareness Month, and ArchDaily would like to draw your attention to the architectural coverage we have done on the topic. Autism Spectrum Disorders (ASD) are developmental disorders that affect 1 in 88 children. The spectrum is large and diverse. It ranges from individuals who can be socially withdrawn, have extreme learning difficulties and little to no communication to individuals who can be highly intelligent but socially awkward. Each individual, however, exhibits, to varying degrees, impairments in social interaction and communication, and restricted and repetitive behavior. ArchDaily's coverage looks at the various approaches architects have taken when designing for individuals with autism. We hope to get your feedback on the articles and your help in spreading autism awareness.
Lighting
Spatial Considerations
The Neuro-Typical Approach
Architecture for Autism: Architects moving in the right direction
More Able Not Less Disabled
How do we know that sulfuric acid does not cure scurvy? Is it our wonderful intuitive sense about sulfuric acid's properties? That can't be it. Vitriol (sulfuric acid) used to be the Royal College of Physicians' favored choice. The British Admiralty preferred vinegar. Still others favored a variety of remedies including the seemingly ridiculous notion of fresh fruit.[1] This mess wasn't sorted out until a young Scottish naval surgeon named James Lind did something revolutionary. In 1747 Lind conducted world's first controlled clinical trial.[2] Fresh fruit won, sulfuric acid and vinegar lost.[3]
Similarly, there are various untested claims about which architectural interventions are beneficial for individuals with autism (see: here, here, here, and here). For the most part, these claims are mired in anecdote and conjecture. This makes it impossible to decipher which ones are sulfuric acid, vinegar or fresh fruit. Fortunately there are a few architects that have started to embrace the Lind spirit.  This is the most important and necessary step architects need to take. If architects do not try to verify their claims through fair tests then they run the risk of undermining the public's trust or worse, unintentionally doing harm to a vulnerable population.