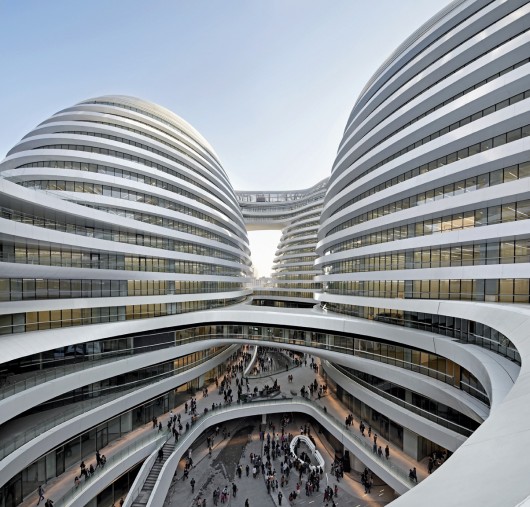 Last week Patrik Schumacher, director at Zaha Hadid Architects and the practice's frontman in the field of architectural theory, took once again to Facebook to disseminate his ideas – this time arguing that "the denunciation of architectural icons and stars is superficial and ignorant." In the post, Schumacher lamented the default position of the architectural media which he believes sees success and reputation as "a red cloth and occasion to knock down icons," going on to outline his beliefs on why stars and icons are useful and even inevitable mechanisms of architectural culture.
Schumacher has made headlines via Facebook before, with a post last year in which he argued for an end to the "moralizing political correctness" that has led to the popularity of socially-conscious design – a post which attracted almost universal outrage from architects, critics and social media users of all stripes. However this latest post had a very different feel; many people, myself included, seemed to find themselves at least partially agreeing with Schumacher. After all, at the most basic level he was asking for designs to each be judged on their individual merits – what's not to like?
In the last few weeks, a number of reactionary architectural commentators have come out of the woodwork to denounce what they see as the currently negative direction of contemporary architecture. They claim that architecture needs to be "rebuilt" or that it is "imploding." From their indications, architecture is on life-support, taking its last breath. The critique they offer is that contemporary architecture has become (or always was?) insensitive to users, to site conditions, to history—hardly a novel view. Every few years, this kind of frontal assault on the value of contemporary architecture is launched, but the criticisms this time seem especially shallow and misplaced. Surveying the contemporary global architecture scene, I actually feel that we're in a surprisingly healthy place, if you look beyond the obvious showpieces. We've escaped from the overt dogmas of the past, we've renewed our focus on issues of the environment and social agency, we're more concerned than ever with tectonics and how to build with quality. But the perennial critics of contemporary architecture appear not to have examined that deeply, nor that thoughtfully either. And unfortunately the various rebuttals to their critiques, ostensibly in support of modern and experimental architecture, have been ham-handed and poorly argued.
ArchDaily is continuing our partnership with The Architectural Review, bringing you short introductions to the themes of the magazine's monthly editions. In this post, we take you back to AR's June 2014 issue, which examines the state of architectural criticism in our age of online media and ever-present PR. Here, AR Editor Catherine Slessor argues that "more than ever, architecture is in need of provocative, engaging and entertaining critics."
Ambrose Bierce, the great 19th-century satirist and author of the The Devil's Dictionary, once defined a critic as 'a person who boasts himself hard to please because nobody tries to please him'. Critics occupy a curiously parasitical position in the modern cultural milieu, and an architecture critic perhaps especially so. But in an age when architects can easily find obliging PR minions to dispense their gospel and biddable publishers to churn out infinite, anodyne oeuvres complètes, who still needs critics and criticism?
Last week Zaha Hadid filed a libel lawsuit against critic Martin Filler, after Filler's review of Rowan Moore's book "Why We Build: Power and Desire in Architecture" for the New York Review of Books included a scathing section on Hadid. In the article Filler said she had shown "no concern" for the death of construction workers in Qatar, where she designed a stadium for the 2022 World Cup. Now, Filler has admitted to a significant error in the article he wrote, The New York Times has reported. In an amendment to his article Filler acknowledges that the quotes he used from Hadid were taken out of context and had "nothing to do" with the Qatar stadium she designed. Read Filler's full statement in the New York Times article, here.
In October Phineas Harper, assistant editor of The Architectural Review, published an article about the state of architectural publishing, in which he addressed the crisis facing traditional architectural publishers and heavily criticized online platforms, particularly ArchDaily, that have "little time for critique, turning instead to reworking press releases and biased descriptions from the architects."
Allow me to introduce myself: I am a critic and creator of original content for ArchDaily, and I would like to refute these allegations.
Beginning with Charles McKim, William Mead, and Stamford White and concluding with Michael Arad, Makers of Modern Architecture, Volume II examines the people behind the work at the forefront of 20th and early 21st century architecture. Critic Martin Filler masterfully integrates each person's unique biography and distinctive character into the architectural discussion. Here is his revealing profile of Michael Arad, the young architect whose design for the National September 11 Memorial at Ground Zero brought him into the national spotlight. It was originally published on Metropolis Mag's Point of View Blog.
I wept but about what precisely I cannot say. When I first visited Michael Arad's newly completed National September 11 Memorial of 2003–2011 at Ground Zero, which was dedicated on the tenth anniversary of the disaster—the ubiquitous maudlin press coverage of which I had done everything possible to ignore—it impressed me at once as a sobering, disturbing, heartbreaking, and overwhelming masterpiece. Arad's inexorably powerful, enigmatically abstract pair of abyss-like pools, which demarcate the foundations of the lost Twin Towers, came as an immense surprise to those of us who doubted that the chaotic and desultory reconstruction of the World Trade Center site could yield anything of lasting value.
Yet against all odds and despite tremendous opposition from all quarters, the design by the Israeli-American Arad—an obscure thirty-four-year-old architect working for a New York City municipal agency when his starkly Minimalist proposal, Reflecting Absence, was chosen as the winner from among the 5,201 entries to the Ground Zero competition—became the most powerful example of commemorative architecture since Maya Lin's Vietnam Veterans Memorial of 1981–1982 in Washington, D.C.
I get most of my knowledge about the current trends and interests of architects through social media and various websites. My Facebook newsfeed constantly shows an array of pictures, articles, and videos of things ranging from new buildings to data algorithms to bacteria evolution to (usually confusing) romantic, poetic statements about architecture.
They all share one thing in common: they are posted on Facebook by architects and architecture students. To me, this shows the current disarray and lack of focus in the field. Architecture publications and websites only confirm my thoughts further. And nothing reaffirms this more than my daily experiences at MIT.
Read more, after the break…
"Even though I wished for her attention, I was scared of it."
These words, spoken by Frank Gehry about the inimitable Ada Louise Huxtable, may be his alone, but you can be sure that their sentiment was – at some point or other – shared by almost every person in the architecture world.
Huxtable's writing walked that unusual, and oh so difficult line, between impassioned opinion and critical voice. As a result she managed to achieve the holy grail of architecture criticism: respect from architects and the general public alike. She for ever changed the world of architecture criticism, and as her successor Paul Goldberger, said of her in 1996: "She has made people pay attention. She has made people care. She has made architecture matter in our culture in a way that it did not before her time."
Blogger for The New York Times Arts Beat, Danny Dunlop attended Huxtable's "memorial tribute" this past Tuesday at the Metropolitan Museum of Art in New York; his post provides a lovely summary of those who attended and spoke in honor of Ms. Huxtable, from Gehry to Goldberger. You can find it here.
And 5 articles that, according to HyperAllergic, best show Huxtable's critical prowess (all well worth reading) here.
In this fascinating conversation, critic and theorist Jeffrey Kipnis and architect Steven Holl discuss modern architecture, from competitions to cantilevers, courtesy of our friends at 32BNY.
The following article by Oliver "Olly" Wainwright (Architecture and design critic at The Guardian) was featured on Fulcrum #67 "The End of Critique", which also included an article by ArchDaily's co-founder and Editor-in-Chief, David Basulto.
Baubles on Pedestals
It has become increasingly fashionable to trumpet the death of criticism. Barely a week goes by that there isn't a new blog declaring the end of architectural critique, the slipping of standards, the domination of our screens by an unmediated slew of images.
"Criticism is in crisis," wail the critics, seeing their traditional role threatened by a torrential tide of websites that funnel an incontinent splurge of unadulterated visual stimulation. From Dezeen to ArchDaily, Designboom to Architizer, we are bombarded with a never-ending deluge of projects, freed from any sense of context or meaning. It is easy to believe the cries that architectural culture is being flattened into a homogenous soup of saturated colours and oblique geometries – a cascade of effortlessly digested eye-candy to be liked, retweeted, pinned and shared across the infinite social media network.
The following article was featured on Fulcrum #67 "The End of Critique"   and includes texts by Oliver "Olly" Wainwright (Architecture critic at The Guardian) and me, David Basulto (Founder and Editor in Chief of ArchDaily). Thanks to Jack Self  for the invitation and for his thorough editing. 
Towards a new architecture
Since the early 1900s, modern architecture has undergone incremental development, where each new iteration has been informed by previous findings and solutions designed by other architects. This process started at a very slow pace, when a young Le Corbusier  went east and published his findings and observations in Vers une Architecture.
The book became very influential among his contemporaries, who, based on his observations, produced their own iterations, second, third and forth waves, very quickly. These architects then started to unite. CIAM  is an instance of where this early knowledge was shared, replicated, and published, therefore advancing at a faster pace.
Since then, architectural knowledge pursued a steady curve of advancement, accelerated by architectural publications that made this knowledge available to different parts of the world. Ultimately, the Internet arrived, making the exchange rate of information so fast that new iterations of modern architecture are today accelerating this curve in unprecedented ways.
"Take Five: A Titan of Architectrual Criticism has Died, but Architects are Best Prepared to Carry on the Conversation" was originally published in AIArchitect.
In a stirring call-to-action written for AIArchitect, Robert Ivy, FAIA and AIA EVP/Chief Executive Officer, reflects on the state of architecture criticism today. He recognizes that the late, great Ada Louise Huxtable was unquestionably the best critic of our time. However, the time of the singular architectural voice has passed; in the 21st century, and with the rise of the Internet, we have all become architectural critics – architects, informed citizens, and, often most vociferously, not so informed citizens. In this world of critical noise, Ivy proposes that the architect must step up to take on the role of architecture critic… and advocate.
Read Ivy's stirring article in full, after the break…
The New York Public Library has a plan to save millions of dollars, improve efficiency, and reverse the cutbacks that have been plaguing it. How? By sending little-used resources off-site (after all, most people use the library for its online resources these days), the Library will consolidate three libraries into one Mid-Manhattan branch, renovating the building with a streamlined, efficient design – courtesy of Foster + Partners - to create "the largest combined research and circulating library in the country."
It sounds like a wonderful, modern solution. Ms. Ada Louise Huxtable would beg to differ.
The former New York Times architecture critic and current critic for the Wall Street Journal has come out swinging against the plan. First, she builds on the critique that others have made, that by moving volumes off-site (to New Jersey, or "Siberia, as she puts it) to make room for more modern amenities, the library will devalue its primary purpose (making resources readily accessible). To put it another way, as Scott Sherman did in his article for The Nation, it would turn the library into "a glorified internet café." Then, Huxtable makes her own argument: that removing the current, intricate system of stacks would be an enormously complex, expensive, and hopelessly misguided structural challenge.
But, ultimately Ms. Huxtable's argument comes down to the intrinsic architectural and cultural value of this Beaux Arts Masterpiece: "You don't "update" a masterpiece."
More on the Ms. Huxtable incendiary critique of The New York Public Library's Central Plan, after the break…
There's a saying that goes "Those who can't do, teach." But many could also claim: "Those who can't do, critique." Criticism, particularly Architecture Criticism, tends to get a bad rap for being subjective, impenetrable, and – ultimately – useless. But Paul Goldberger, a champion of the craft, would disagree.
In his acceptance speech for the Vincent Scully Prize earlier this month, Goldberger, the long-time architecture critic for The New York Times and current contributor to Vanity Fair, suggests that Architectural Criticism isn't just vital – but more important than ever before.
With the advent of visually-oriented social media like Twitter, Pinterest, and Tumblr, it's never been easier for the architectural layman to observe, share, and consume architecture. However, in the midst of this hyper-flow of image intake, Goldberger argues, meaning gets lost.
That's where the critic comes in.
National Building Museum and Metropolis Magazine contributor Andrew Caruso takes you "inside the design mind" of Pulitzer Prize-winning architecture critic Paul Goldberger.
It's rare to find someone willing to pay for opinions these days, and rarer still to be known for them. Yet, Paul Goldberger has crafted a career by objectively navigating the subjective. As an arbiter of quality in architecture and design for nearly four decades, he spends a few moments with me to reminisce about the "short break" he took from journalism that led to, among many accolades, the Pulitzer Prize in 1984 and, more recently, the Scully Prize.
Andrew Caruso: You're being recognized this year by the National Building Museum with the Vincent Scully prize. Given your relationship with Scully began when you were a student at Yale, this must be a very meaningful award.
Paul Goldberger: Scully was very much a teacher and mentor to me. Actually my first exposure to him was a high school visit to Yale. I observed one of his classes and was blown away. He was one of the reasons I wanted to go to Yale in the first place and I was lucky to work with him through college and as my thesis adviser.
The complete interview after the break…