Stephen Hodder, the current President of the Royal Institute of British Architects (RIBA), has spoken out about a "U-turn" following the proposal of March 19th (passed under past President Angela Brady) condemning the Israeli Association of United Architects (IAUA) for its failure to "resist projects on illegally-occupied land" in the West Bank and Gaza. According to BDOnline, the RIBA has "been forced to abandon its policy [...] after an internal report said it should never have been put to a vote in the first place."
This highly controversial episode, which has overshadowed Hodder's presidency, has also garnered criticism both in the UK and as far afield as the USA. Architects such as Richard Meier and Daniel Libeskind have stated that the RIBA's actions have been "short-sighted and appear to be an attempt to simplify a very complex issue." In the UK, Paul Finch writing in the AJ asked whether there would "be a rush to suspend the Russians because of what is happening in Ukraine? Were the Chinese suspended when they were destroying much of their magnificent built heritage, or invading Tibet?" "Certainly not", he concluded.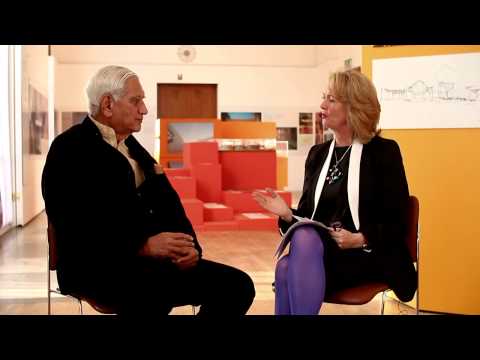 After generously donating an archive of over 6000 drawings and 150 projects, architect Charles Correa sat down with RIBA President Angela Brady to discuss his life and work as one of "India's greatest architects." The short interview touches on a wide range of topics, from the inspiration behind some of his greatest projects to advice for future architecture students.
"The thing about architecture is that you cannot teach it. You can learn it, but you cannot teach it. And a good school is a school which makes you passionate about architecture and that teaches you how to ask questions. [...] If you know how to ask the right questions, you will develop your own philosophy and your own visual vocabulary."