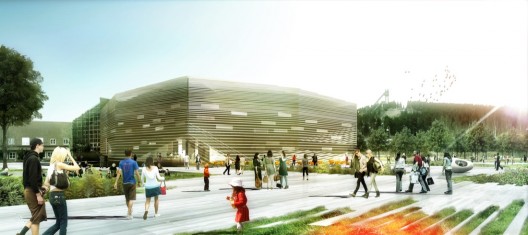 Danish architects ADEPT Architects, together with an impressive group of collaborators, have been awarded with the 1st prize on the competition for the Dalarna Library in Sweden. The team includes Sou Fujimoto (Japan, see all his projects previously featured on AD), Topotek1 (Germany), Rambøll A/S (Denmark) and Bosch & Fjord (Denmark).
The new library, placed centrally at the Dalarna university campus, is organized as a "spiral of knowledge" (see diagram below). The sloping terrain continues in a ramp through the building. Wrapping itself the ramp creates a spiral-shaped space – the heart of the building for information seeking and easy orientation. This organization of program creates a various learning environment where students can take part in the vibrant life of the library as well as retreat into various study niches. The different sound levels and activities create a diverse and eventful library.
The municipality of Helsingborg, in Sweden, chose Schonherr and Adept Architects as winners of the planning competition with their proposal entitled the Tolerant City. Their contextual project will add value to its urban environment by creating a new identity and exploring the future possibilities for Helsingborg. 
More on the project after the break.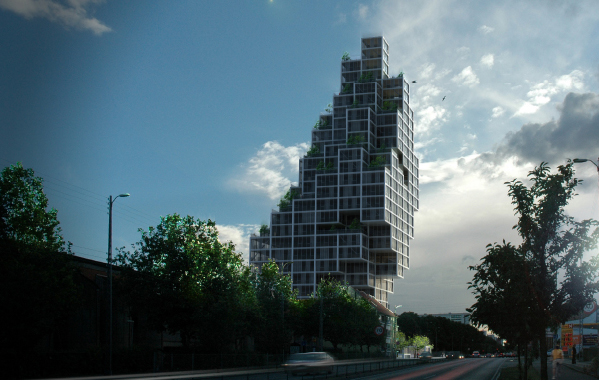 Some time ago we featured a mid rise building by OMA in New York, a cantilevered volume that brings a new concept for tall buildings. A similar approach can be found at a recent competition for the Rødovre Skyscraper won by MVRDV in association with ADEPT: A 116m tall mixed use tower, based on a 60sqm module arranged around the central core of the building.
It´s interesting to see the structural approach for this new typology, as you can see on another render below: the inner core -actually 3 cores to access the different program segments- is made out of concrete, with the units wrapping it around on a steel structure.
Something interesting in times like this, is that the building allows for different configurations responding to unstable markets, flexibility achieved by re-designating these 60sqm units.