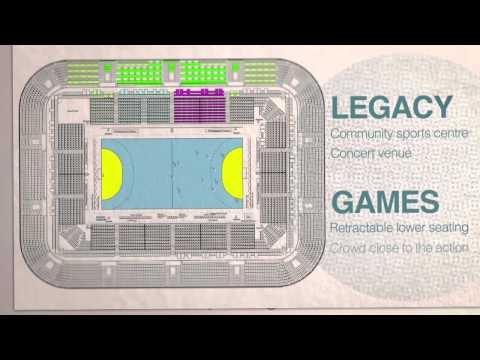 As the world turns its eyes to London in 2012, Design Stories examines the architecture and engineering behind the 2012 sporting venues. It provides a unique Olympic experience – a place where people can explore and view drawings, images, videos and amazingly detailed models of London's key new sporting venues.
Tensions mounted between modernist and traditionalist camps earlier last month when Paul Finch, UK Chairman for the Commission for Architecture and the Build Environment, praised the fact that modernists had won bids to design buildings for the 2012 Olympics. In response, Robert Adam, member of the Traditional Architecture Group, and Michael Taylor, senior partner at Hopkins, the firm that designed the Olympic velodrome, met for a discussion on hegemony, timeliness, and pastiche moderated by Guardian staffer Lanre Bakare.
The conversation is lively and aggressive. Ironically, the 'progressive' Taylor comes off as complaisant ("Let's agree vast parts of our cities are covered in very bland modern buildings with too much glass and steel." "There are some buildings where there will be common ground – for example, the works of Brunel, or Crystal Palace."), and opinionated ("Anyone would recognise the problems with modernism and see values in traditionalism which they like, but the problem is traditionalism is fixed and isn't something that people think is moving forward.")  and Adams, a bit of a snob, ("MT: People are benefiting from cars, aeroplanes and other modern technology, and so to take the appearance and facades of your architecture as one separate element which should make a very clear and literal quotation back to history seems to be inconsistent. And I think people struggle with that. / RA: I think only architects struggle with that. Most people don't have a problem with a Ferrari in the drive and a Georgian house behind it.) proves to be keenly aware of traditionalism's place in contemporary Britain ("The prejudice towards traditionalists is rather like sexism. It's just in the culture. If you're in the profession, that's just what you do. When you're delivering the prejudice you don't really notice it, but if you're on the receiving end of it, then it's a problem"). More an exhibition of conflicting ideologies than a conversation about contemporary viewpoints, the discussion is a fascinating look into how two feuding camps see themselves and their place in the world at large.
Follow this link: http://www.guardian.co.uk/commentisfree/2011/aug/05/architecture-modernism-vs-traditionalism-olympics