The SOM Foundation has announced the 2011 SOM Prize Winner and Runner-up.   Brandon Clifford, a recent graduate of the Master of Architecture's program at Princeton University, was selected as the winner of the prestigious SOM Prize, a $50,000 Research and Travel Fellowship.  Clifford will visit multiple countries on four continents in carrying out his research topic, "Volume: Researching Past Methods of Stereotomy."
SOM, one of the first major modern American architectural firms to promote a corporate face, has continued to be a 'massive and dynamically creative commercial force' designing the world's tallest building Burj Khalifa in Dubai, their commission for a new green district, Green Tech City, in Hanoi, Vietnam, and SOM was selected to design New York City's (and the State's) first Net Zero Energy school building, PS 62 located in Staten Island.
In 2009 SOM was recognized for just that when they were included in Fast Company's annual list of "The World's 50 Most Innovative Companies" ranked #32 (the only AEC company on the ranking), amongst companies such as Google and Apple.  And they were also rated (by Fast Company) as number one on its list of the 10 most innovative architecture firms.
In this 30th year of Foundation Awards, the Fellowships continue to offer recent graduates the rare opportunity to travel in connection with carrying out in-depth research, collaborate with other professionals and pursue independent study outside the realm of established patterns. To date, the Foundation has awarded more than $1,000,000 to architecture, design and engineering students who have gone on to distinguish themselves in professional and academic careers.  It has been said that,"the SOM Prize is one of the primary tools that our profession has to bridge the gap between the academy and the real world."
The official press release from SOM following the break.
Architect: Robert M. Gurney, FAIA
Location: Chevy Chase, Maryland, USA
Project Architect: Claire L. Andreas
Contractor:  Peterson and Collins Inc.
Interior Designer: Therese Baron Gurney, ASID
Landscape Architect: Lila Fendrick Landscape
Engineer: D. Anthony Beale LLC
Project Year: 2009
Photographs: Maxwell MacKenzie Architectural Photographer
Architects: RAU
Location: Weert, The Netherlands
Project Year: 2011
Project Area: 8,860 sqm
Photographs: Norbert van Onna
The house made famous by "Secret Garden", a Korean soap opera, hosted a press conference for the actors and gave the shows fans an intimate look at Oska's house, one of the main characters of the show.  The house is actually owned by cosmetic and health food brand Maiim.  The whole area is called the Maiim Vision Village and is an environmentally-friendly park where the indoors and outdoors are balanced harmoniously.  In some views of the house, one can see how the exterior appears to be a smooth continuation of the interior space.  Floor to ceiling glazing provides views to nature extending beyond the house.  More images after the break.
Architects: Elisa Valero Ramos
Location: Granada, Spain
Building Surveyor: María de los Llanos Martín Romero
Collaborators: Leonardo Tapiz Buzarra, Esteban Salcedo, Óscar Raya
Client: HE Planning Department. Granada Council
Project Year: 2011
Project Area: 887.30 sqm
Photographs: Fernando Alda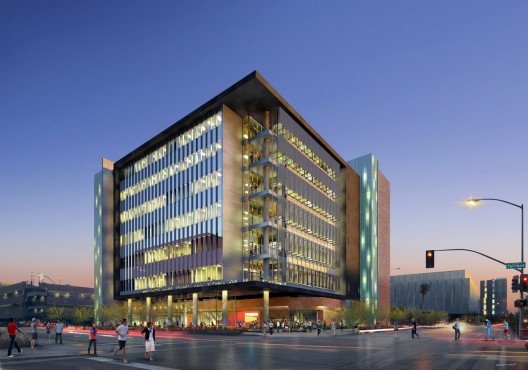 Arizona State University's new Interdisciplinary Science and Technology Building 4 (ISTB 4) was designed to be a progressive home for ASU's School of Earth and Space Exploration (SESE) and some departments from the Fulton Schools of Engineering (FSE). At 294,000 sq.-ft., this seven-story "smart" structure will be the largest research facility in the history of the university. In addition to cutting-edge laboratories and research offices, ISTB 4 will house extensive public outreach and K-12 education spaces designed to engage the Greater Phoenix community in earth and space exploration. Ehrlich Architects' new Arizona State University School of Earth and Space Exploration is a clearly organized laboratory building that will enhance the research, science and educational programs housed within.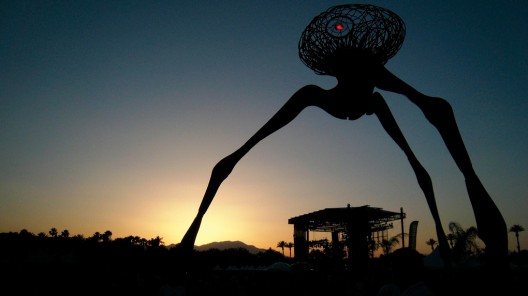 Since 1999 the Coachella Valley Music and Arts Festival has been bringing to the California Desert a collection of different genres of music including rock, indie, Hip Hop and electronic music. Located in Indio, California, with a population of 75,000, the annual music festival brings together over 225,000 people over a three-day weekend in April to the vast fields of the Empire Polo Club.
Architects: Luis Mira Architects
Location: Cape Town, South Africa
Project Team: Luis Mira, Julia Hundermark
Structural Engineer: Jeffares & Green Consulting Engineers
Mechanical Engineer: Sutherland Engineers
Project Year: 2010
Project Area: 335 sqm
Photographs: Wieland Gleich, Luis Mira Architects
Architect: John Douglas Architects
Location: Phoenix, Arizona
Project Year: 2008
Structural Engineer: KPFF
Civil Engineer: KPFF
Mechanical Engineer: Energy Systems Design
Lighting Design: R.C. Lurie Company
Landscape Architect: Design Worksop
Exhibit Design: Thinking Caps
Photography: John Douglas Architects
I|K Studio shared with us their masterplan design with an energy network for an academy outside of Port-au-Prince. This design will serve as a model of offset power production independent from a central utility. More images and project description after the break.
What is Nature? Is it real or man-made? As a possible answer to these questions, Hataarvo Architects believe nature is the most interesting thing for this project, and that all of nature is interfered with each other. Therefore, they have proposed a concept as 'constructed nature' which means neither real or man-made, but only construction. More images and architects' description after the break.
Architects: Suppose Design Office
Location: Shizuoka, Japan
Project Team: Makoto Tanijiri, Masashi Shiino
Construction Company: Mitsuko Terada
Structural Engineer: Ohno JapanProject Year: 2010
Project Area: 127,333 sqm
Photographs: Toshiyuki Yano
The Busan Opera House proposal, by WEAVA Architects, takes full advantage of its placement within the Marine Culture District; a site advantageous for designating the building as a unique cultural landmark. Their concept embraces both the city and natural landscape by providing two distinct, yet connected faces. More images and architects' description after the break.
Debartolo Architects were commissioned to develop a master plan for the growing church in a satellite community of Metro-Phoenix. Debartolo Architects developed a new language for a church that named themselves after an existing pistachio grove that once and still partially thrives on their 22 acre site. With three existing buildings, built by the congregation and designed by volunteers, the idea was to develop a more strategic approach to the next generation of development, growth and use of the entire site.
For the STAAB Residence designed by Chen + Suchart Studio the context for this site consists of larger homes on one-acre lots. Aesthetically, the neighboring houses' architectural language is more often than not, associated with speculative developer trends and styles, rather than an integrated understanding of the site, the views, and the potential. As a result, the project required a strategy which would edit out the immediate context of this neighborhood while focusing on distant views of the McDowell Mountains to the north and the valley to the south and southwest. The project also sought to create a protected courtyard space for the backyard and pool area as an immediate focus for the lower level of the house in contrast to the second level taking advantage of the more distant views.