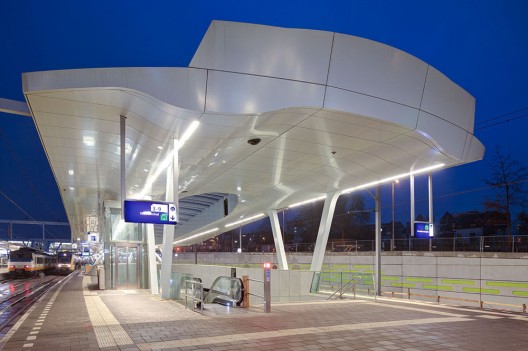 Architects: UNStudio, Ben van Berkel with Arjan Dingsté and Marc Hoppermann, Marc Herschel, Derrick Diporedjo, Kristin Sandner, Rein Werkhoven
Location: Arnhem, the Netherlands
Client: ProRail, utrecht
Engineering: Movares
Contractor: DAM-Dura Vermeer
Gross Roof Area: approximately 8700 m2
Dimensions: 4 platform roofs of approximately 210 metres long, with varying widths from 9-14 metre
Structure and materials: steel, aluminum and cold formed glass roofs
Start of construction: 2009
Planned completion date: 2011
In terms of scale, we typically feature massive projects by UNStudio – such as their Kutaisi Airport, planning scheme for Union Station, and grand performance venues – which all bring the contemporary aesthetic of Ben van Berkel to meet the projects' respective programmatic and contextual demands.  Recently, van Berkel's team has crafted a covering for the Netherlands' central rail line, bringing their elegant touch to a structure blanketing four train platforms measuring 210 meters in length.
More about the platform coverings after the break.