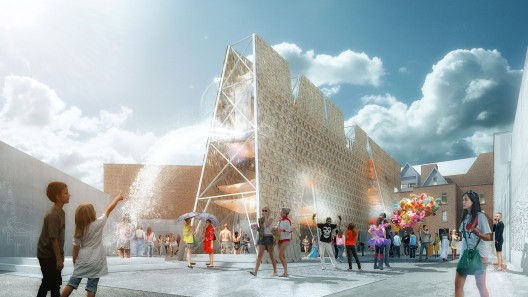 The Museum of Modern Art and MoMA PS1 has selected CODA's (Caroline O'Donnell, Ithaca, NY) large-scale, self-supporting Party Wall, made from leftover shreds of skateboard material, as winner of the 2013 Young Architects Program (YAP). Drawn from five finalists, the porous skin of CODA's temporary urban landscape will shade visitors of the Warm Up Summer Music series with its reclaimed woven screen, while providing water in refreshing cooling stations and seating with its detachable wooden skin on the lower half of the linear structure.
"CODA's proposal was selected because of its clever identification and use of locally available resources – the waste products of skateboard-making – to make an impactful and poetic architectural statement within MoMA PS1′s courtyard," said Pedro Gadanho, Curator in MoMA's Department of Architecture and Design. "Party Wall arches over the various available spaces, activating them for different purposes, while making evident that even the most unexpected materials can always be reinvented to originate architectural form and its ability to communicate with the public."
Continue after the break for the complete project description.