Urban Outfitters Corporate Campus, designed by Meyer Scherer & Rockcastle transformed four dilapidated historic buildings in Philadelphia's Navy Yard, into an award winning adaptive reuse headquarters.  The Anthropologie, Free People, and Urban Outfitters retail brands' design studios and offices are housed within each building. A campus commons and services' offices are efficiently shared among the different divisions of the company.  This project received a 2010 AIA Honor Award for Architecture.
Follow the break for a video discussing the site and design featuring Urban Outfitters, Inc company founder Dick Hayne. More photographs, drawings, and project description after the break as well.
Architects: Meyer, Scherer & Rockcastle, Ltd.
Location: Philadelphia, Pennsylvania, USA
Principal-in-Charge: Jeffrey Scherer, FAIA
Project Manager: Josh Stowers, AIA, LEED AP
Interior Designer: Leanne Larson, CID, IIDA, LEED AP
Client: Urban Outfitters, Inc
Total construction cost: $100 million
Project Area: 285,000 sqf
Project Year: 2006
Photographer: Lara Swimmer Photography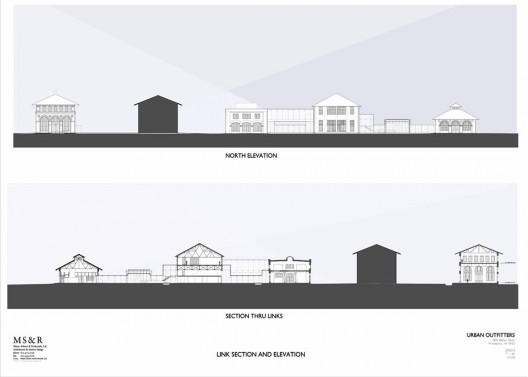 Site
Located at the confluence of the Delaware and schuylkill Rivers, the Navy Yard served as a ship building and repair facility from 1868 through 1996. Decommissioned, it's 187 buildings were abandoned. in 2004, the 1,000-acre National Historic District was master planned for redevelopment an evolution from public ownership to private use.
When Urban Outfitters, inc., first considered the site, the existing structures were dilapidated. Despite the decay, the soul of the Navy Yard spoke to the company's founder, Dick Hayne. He purchased four historic buildings, with an option on one, that were constructed from 1880 through 1939.
Project
Urban Outfitters, a clothing and housewares retailer, was the first major non-ship building corporation to move to the Navy Yard.  The design including building documentation and renovation was completed within 23 months. Using the Federal Historic PreservationTax incentive Program,the client invested over $100 million in the 285,000 square-foot project.
Outcome
The buildings once operated to produce naval vessels, alternating between construction, repair, and even scrapping decommissioned ships.The design centers on utilizing the factory characteristics of the buildings industrial materiality, open volumes, and access to daylight to repurpose the buildings' major function from production to creativity. The synthesis of four measures art, culture, economy, and environment results in the transformation from a public, production based yard to a private, creativity based one.
Project Team: Garth Rockcastle, FAIA, Principal, Tom Meyer, FAIA, Principal, Will Jensen, AIA, Alan Hillesland, AIA, Dan Vercruysse, LEED AP, Coco Dugan Early, CID, IIDA, Carla Gallina, Brig Balgobin, Lynn Barnhouse, CID, LEED AP, Kate Bergquist, Julie Elsenpeter, Olawale Falade, Carl Gauley, Alex Haecker, AIA, Jessica Harner, LEED AP, Brent Holdman, Bill Huntress, AIA, Byoungjin Lee, LEED AP, James Moore, Jack Poling, AIA, LEED AP, Steven Rothe, CID, Michael Stickley, Kristilyn Vercruysse, Mark Whitenack, Sousan Yaghi
On-site Representation, Associate Architects: H2L2 Architects Planners, LLC
Interior designer: Meyer, Scherer & Rockcastle, Ltd.
Mechanical/Electrical Engineers: Paul H. Yeomans, Inc.
Structural Engineer: Meyer, Borgman, and Johnson, Inc.
Civil Engineer: Advanced GeoServices
Landscape: D.I.R.T. Studio
Lighting: Meyer, Scherer & Rockcastle, Ltd.
Detailing Consultant: Jim Larson
General contractor: Blue Rock Construction, Inc.
Renderings: Meyer, Scherer & Rockcastle, Ltd.