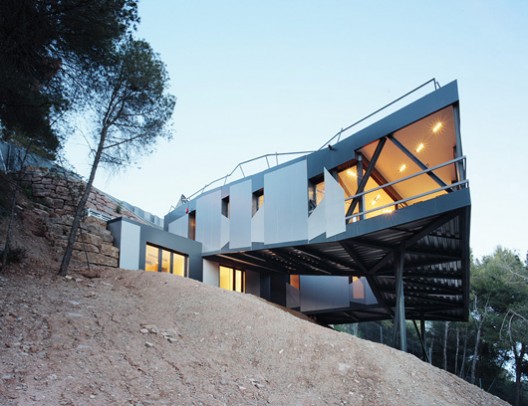 Architects: ADD+ Arquitectura – Manuel Bailo Esteve, Rosa Rull Bertran
Location: Igualada, Spain
Collaborators: O.Florejachs, N.Canas, D.Franz, E.Grammont, M.Hita, P.Juarez, J.Maroto, A.Romero, M.Rull, M.Cabestany, J.Vives
Client: Godó Family
Constructed Area: 200 sqm
Budget: US $627,000
Project year: 2003
Photographs: José Hevia

The house has been designed in a parcel with extremely high topography. The parcel is located at the end of the city of Igualada, and the project will look to the landscape at the front.
The views are excellent and the mobility inside and outside the house will define the project.
The house could be understood like a promenade throw the landscape. And the Garden House 0.96 will be the promenade between the level of the car road (entrance) to the level of the river (garden).
The structural solution of the project is a continuous steel tube fitted in the earth at the extremes. A steel tube covered with aluminum panels which flies over the trees of the parcel.