Architect: Rojkind Arquitectos
Principal in Charge: Michel Rojkind
Project Team: Agustin Pereyra, Mauricio Garcia-Noriega, Moritz Melchert, Juan Carlos Vidals, Paulina Goycoolea, Daniel Dusoswa, Matthew Lohden
Client: NESTLÉ
Traqs: Luis Araiza, Jesús Gonzales, Agustin Villegas
Efficiency: Fermin Espinosa, Francisco Espinosa, Carlos Juárez, Ricardo Brito, Francisco Villeda, Ana Isabel Morales, Verónica Jaimes
Structural Engineer: Moncad [Jorge Cadena]
Lighting Design: Noriega Arquitectonics Iluminators [Ricardo Noriega], Fernando Gonzáles
Landscape Design: Ambiente Arquitectos y Asociados, [Fritz Sigg, Juan Guerra], Erick Flores
Construction Photographs: Guido Torres
Constructed Area: 634 sqm
Design Year: 2007
Construction Year: 2007
3D Massing: Juan Carlos Vidals
Photographs: ©Paúl Rivera
While Nestlé's chocolate Factory in Mexico City (located in Paseo Tollocan near Toluca) was in need of an inner pathway for visitors to witness the production of their favorite chocolates, a group of experts put together by rojkind arquitectos and Traqs suggested bigger plans for the company.
Why not create the first chocolate museum in Mexico and have a 300-meter long façade along the motorway as the new image of the factory. So the first phase took shape and required a 634m2 space that could accommodate the main entrance for the children to have the most pleasant experience and to start the voyage into the chocolate factory as soon as they enter this playful yet striking space, the reception area, the theater that would serve as preparation for the Nestle experience, the store or museum shop, and the passage to the tunnel inside the old existing factory.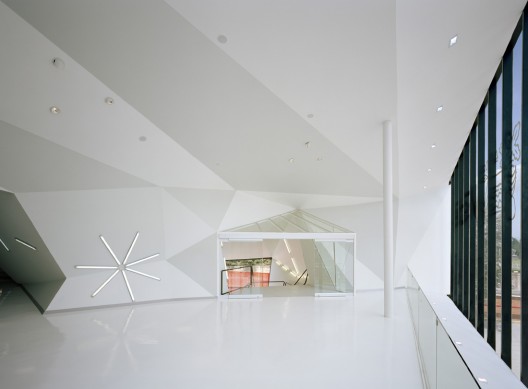 Record time
An architectural experience. Sensorial architecture, from the surprises, the twists and folds. An architectural challenge. As much the forms and the spaces they contain, like the times are taken to the limit. Foldings and record time: 2.5 months to finish….and that included design and construction!
The complexities of architectural projects require a team effort and in this case we organized 3-8hr shifts in order to deliver the project in time.
The concept: a playful folding shape that is evocative for kids, of an origami shaped bird, or maybe a spaceship, or could it be an "alebrije"? What might seem like a capricious form is the fruit of diligent design explorations and an intuition about what the place should express. The spectacular result is as firm as the faceted shapes which sustain it.