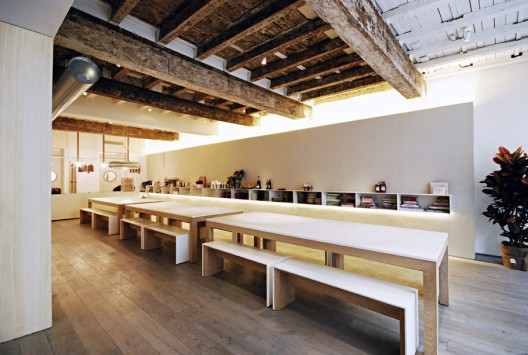 Architects: Archiplan Studio
Location: Mantova, Italy
Project Year: 2011
Photographs: Gianni Basso / Vega Mg
Project Area: sqm
Collaborators: Elia Pavesi, Nicola Pianori
The project involvesthe renovation ofan existing spacelocatedin the historiccity of Mantua,and itsconversioninto a restaurant. By meansof the spatial organization,usedmaterials andfurnishings,the project translates all the issues related to thedomestic dimensionof"stare a tavola" (dining).
Allusedfurnitureas benches,stools, tables,servingcounter, sink, toiletand incandescent lampshave been custom designed, only exceptions beingthe Porro seatsandled lighting(from I LED).





















* Location to be used only as a reference. It could indicate city/country but not exact address.