Architects & Urban Planner : FGP(a) French Global Project
Location: Quai Malakoff, Nantes, France
Architect In Charge: Philippe Gazeau
Design Team: FGP(a) French Global Project
Project Area: 19,763 sqm
Photographs: Stéphane Chalmeau, Philippe Ruault
The site has one strong feature: it has the size of a big block. Its large dimension was still entirely occupied by the stadium when we began to think out the upgrade. The stadium is a place rich with memories for the city, and it was easy to see that the new urban project, which aims at a complete overhaul of functions and landscape in this part of Nantes, should not efface the landmark status and sporting connotations attached to it.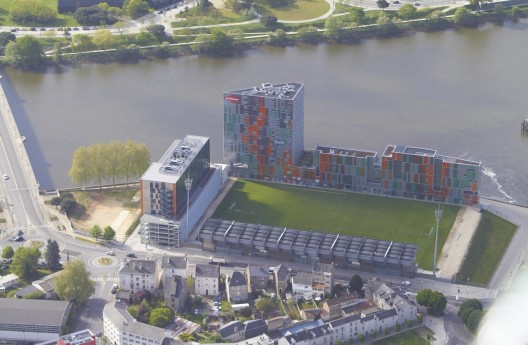 The site forms a balcony over the loire, at the confluence of the Saint Felix Canal. So there is a relationship with an extended landscape that is out of the ordinary.
Working from these three sets of problems, the block would be rebuilt around a wide lawn, conserving its emblematic character, and opening up the broad sight-lines offered by the landscape. In this way, we began by working on unencumbered space and its qualities, then we surrounded the lawn by constructions on all four sides, and not just to the west and east, as we were initially asked to do.
It is interesting to recall that what we were requested to do in the brief was to build offices, dwellings, an institute of advanced studies, a house of human sciences, and temporary accommodation rooms for researchers from all over the world, along the short sides of the old football ground.
But we put practically everything on the south side. We proposed building a kind of translucent, multicoloured screen facing full south, looking over the river and its distant landscape, while keeping to the narrow Loire embankment. It was a daring approach, and in the final analysis this is what convinced the jury and the mayor.
What was at stake in our outline study was to show people that on this narrow tongue of land between the stadium lawn and the waters of the Loire, the implantation that offered the most from every point of view, including that of the users, was to favour a south-facing front.
Before being a piece of town planning, it was a vital architectural gesture. A design decision – reconstituting the three sides of the stadium around the lawn – that gave enhanced urban presence to the site.
The happy result is that we were able to fit an enormous programme onto a piece of land barely fit for construction. Looking at the demolished stands, you wonder how it will all fit in. Yet working from a seemingly impossible situation, under such heavy constraint, the urban project was set into place using an architectural strategy.
What appears clearly here is that the logic of an urban scheme cannot be dissociated from defining an architectural approach, whereas in France most of the time we are led to separate urban design and architecture. Everyone knows that at one stage or another, every town planning scheme finds its quality and intensity are dependent on the architecture that it brings into being. And in view of this, it is by no means idle to put the question the other way round: what type of town planning can be brought into being by a certain type of architecture?
No urbanist would have ever thought of a building as extreme as this, over 150 metres long, with its shortest side just 2 metres thick, and over which we have even been able to out up a tower 50 metres high.
The apparition of the tower in the project led us to work on the skyline: graphic silhouettes rising up around the strict geometry of the football field. The free design of their cut-out forms and differing heights bring together in an unusual way programmes that are extremely diverse: dwellings, restaurant, house of human sciences, research institute, library, big aerial parking lot, offices, staff residence and hotel.
This architectural decision to accumulate, superpose and mix all the programmes and volumes around the stadium lawn creates a hybrid project, between an urban design approach and the revelation of a new architecture. Wich may be seen as a sort of 'super-buliding', a blockbuilding big enough to hold a football stadium!
The nearness of constructions to the lawn makes for spectacular turn-arounds. From the stadium stands you have a vision that is entirely different from the one you have walking around the block, or the one you would have from the opposite bank of the Loire: a large unitary building wrapping around a green rectangle of lawn. The project changes nature and form with regard to the exterior. This theatrical staging device, which is fully assumed in urban and architectural terms, constantly modifies and enriches the ways in which this block is seen: from the city centre, from the Loire or from the stands when you are watching a football match. Several sequences are possible, all of them different, and in which conventional images of what people think the architecture of a public facility or of a block of home units or offices should be dissolve in a disorder that may be atypical, but which remains specific and coherent.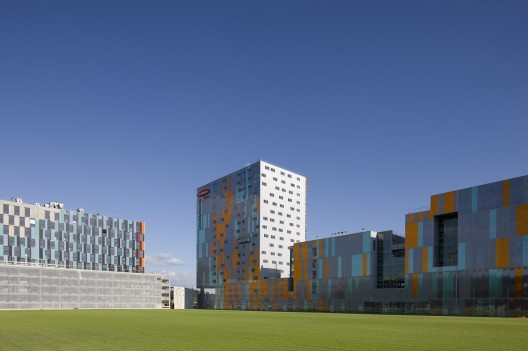 New constructions of this type can house and integrate other facilities – shopping centres, places for leisure activities, parks and gardens – in a wide architectural diversity, without becoming one of those mere collections of objects that we see in so many urban design schemes today, especially the ones that indulge in 'name-dropping'. We can thus imagine other 'superbuildings', urban monsters of a new and generous breed.






















* Location to be used only as a reference. It could indicate city/country but not exact address.