The Ceramic Textile System from Flexbrick can be used on roofings to create surprising optical effects through combinations of decoration, and materials, and alternating the spacing of the pieces.
Insulation requirements are not compromised
Breathable for thermal and acoustic benefits
Wide range of supports and fastenings
Fast laying performance
Roofing System
Flexbrick can be combined with concrete vaults or ceiling panels, increasing its aesthetic possibilities and providing a warm-colored finish that doesn't require the maintenance of painted concrete panels. In the case of prefabricated vaults, they replace the traditional system of beams and inter beams using a single element that performs both functions and is placed as easily as a large beam.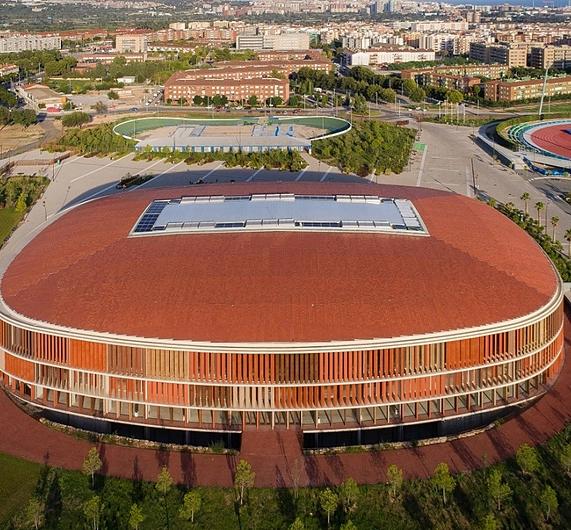 Composition
Flexbrick roofs can be curved and landscaped.
Advantages

Fast execution performance
Easy to combine with green or landscaped roofs
Feasible in sloping, flat, or domed roofs
Perfect for corridors in facilities
As easy as spreading out a carpet by means of a crane
Long life expectancy. Made with ASI 316 stainless steel or galvanized steel.

Type of Flexbrick Finishing

Allows for custom patterns
Tissues with ASI 316 stainless steel or galvanized steel
Wide range of supports and fastenings - only needed in special contexts

Other Characteristics

Grouted with mortar or similar (depending on the base, vehicle traffic is allowed)
Without grouting, directly placed on a geotextile
Landscaped; shed carpets or green joints
Decorative; filling with gravel or other decorative materials, shed ceramic tissues