The Maison de l'Ordre des Avocats (MOdA) is a new office space for a Parisian law firm, unveiled in January 2020. Situated in the 17th arrondissement and designed by the Renzo Piano Building Workshop (RPBW), MOdA is a significant addition to the Cité Judiciaire court neighborhood. To reflect contemporary ideals of justice, transparency, functionality, and independence, the MOdA building is characterized by transparent materials and a modern form.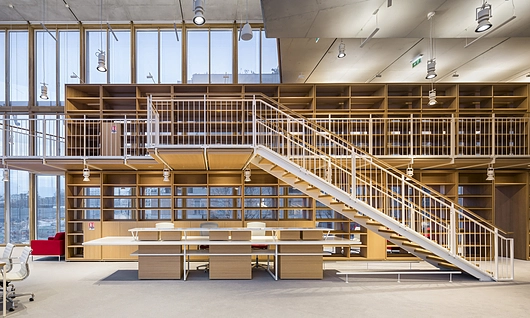 Design Concept
MOdA is designed with sophisticated and exposed structural elements to emphasize the idea of honesty carried throughout the building and the surrounding area. RPBW created a suspended structure with five resting points and a metallic framework, with concrete, aluminum, and glass as the primary materials. Inside, these structural choices are evident as the ceiling is unrefined with exposed concrete, and numerous wooden elements are also notable. Overall, the MOdA building covers only 400 m2 of land, with a rooftop area and cantilevered section.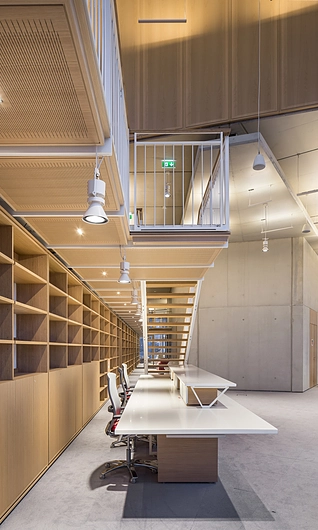 Interior Materials - UniFor Furnishing
On the inside of the MOdA building, wood is used as a functional, structural, and aesthetic material. For example, light-colored wood used to create the steps of the communal stair. To match this, many interior spaces are furnished with UniFor's diverse range of furniture elements.
The UniFor "Mur de livres" is a double-sided 30-meter long bookcase designed by RPBW and finished here in matching light-colored oak wood.
The "Bulles de confidencialité" are two glazed cubicles made with UniFor's RP partition system using extra clear double glazing and lacquered aluminum profiles, made ideally for private conversations.
The large reception table measures 5 meters in length and is made with an oak-wood frame and a UniFor Staron top. The material is sturdy yet malleable, with solid slabs and parts made up of mineral substances, free of styrene and bonded with acrylic.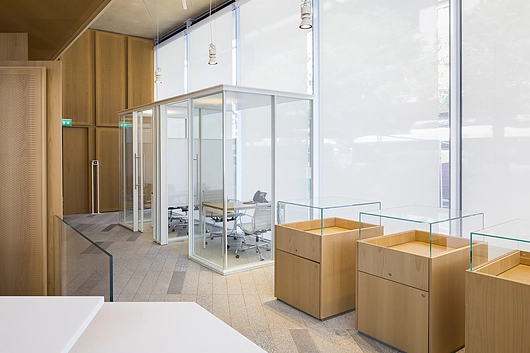 Project Details
| | |
| --- | --- |
| Location | Paris, France |
| Year Completed | 2020 |
| Architect | Renzo Piano Building Workshop |
| Interior Design | Renzo Piano Building Workshop |
| Products Used | UniFor double-sided bookcase: "Mur de livres" / Oak veneered reception table and Staron veneered tops / RP Partition Two glazed cubicles |