Trimo supplies modular space solutions, with clients such as Modspace, Lego, UN, OSCE, Shell, Lukoil, Eni Saipem and many others. Trimo modular units are made of natural materials and are almost 100% recyclable. The modular solutions deliver great environmental benefits including thermal insulation and sound reduction to present an adaptable, versatile, and sustainable modular solution.
Trimo modular units can be shipped assembled flat-packed for on-site installation with just the minimum of tools. Units can also be easily disassembled after use and transferred to a new location.
Commercial
Commercial applications demand flexible, innovative modular building systems with sustainable credentials. Trimo's prefab modular units are available from basic, comfortable solutions right through to high-end versatile modular units, incorporating the highest specification materials
Offices
Showrooms
Exhibition Pavilions
Shops & Kiosks
Sport Facilities
Education
When more classroom space is needed Trimo's modular units can be used to create larger classrooms, complete schools, add-on classroom space, kindergartens, playrooms and many other educational applications. Trimo's units are flexible both in dimension and materials and comply with all standards and regulations.
Kindergartens
Schools
Other Education
Industrial
Industrial applications often require the most robust and durable modular system solutions especially when operations are in remote locations in the harshest environments. Trimo's complete modular camp solutions provide safe and comfortable living and working space and are offered in a wide range of bespoke prefab modular building solutions that have been designed specifically for use as telecom installations, industrial applications and other applications.
Oil & gas camps
Remote site camps
Telecommunication Stations
Waste Treatment Centres
Technical containers
Government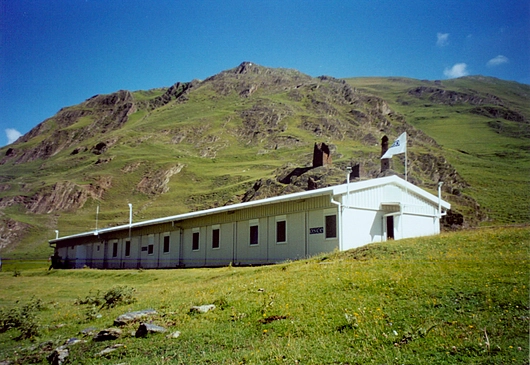 Fast and easy to set up and efficient too, Trimo modular solutions are used as temporary or permanent hospitals or health centers, public infrastructure buildings, and other social building applications. When it comes to military and relief operations undertaken by both government and non-government organizations, Trimo provides complete camp solutions that demand a rugged, re-locatable building for use in often the most remote areas across the globe. Additionally, Trimo offers bespoke, reinforced modular solutions that keep occupants safe even in some of the most dangerous and demanding locations.
Medical Facilities
Military Accommodations
Government Accommodations
Relief operations
Hospitality
The hotel and leisure sectors require innovative modular solutions and specialized buildings that can serve as marinas and campsites or holiday homes. Trimo modular units are customizable to allow investors and architects to create bespoke, cost-effective prefab modular solutions with almost infinite possibilities that utilize space efficiently.
Marinas & Camping
Hotels
Holiday Homes
More information at www.trimo-mss.com.