Vibia has long provided lighting solutions for homes and offices and is poised to illuminate remote workspaces now that the typology of workspaces is shifting. With most people working or studying from home nowadays, it can be difficult to find a suitable setup for productivity. From homeschooling to maintaining daily schedules, challenges abound.
To help create a conducive atmosphere for a range of work-at-home situations, Vibia has created three inspired design ideas. In each, lighting plays a central role in helping to promote a space for efficiency, focus and relaxation:
Traditional Work Space
Focused Retreat
Limited Space
Traditional Work Space
A desk can provide the most seamless transition from an office or classroom, easily accommodating a laptop, lighting, and accessories.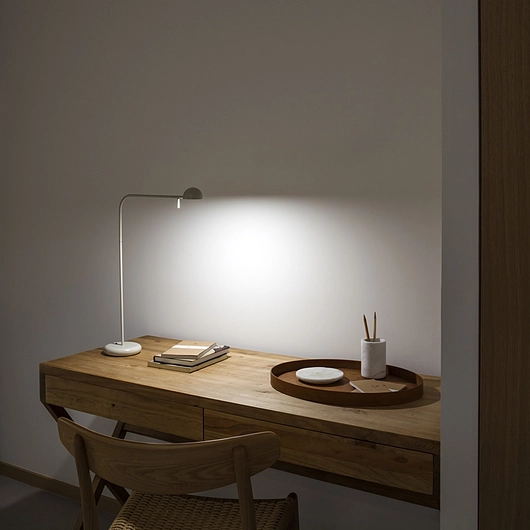 The Pin table lamp by Ichiro Iwasaki has a bold, circular base and a diminutive dome shade with lean lines, a distilled design that is well suited to a variety of desk styles and sizes. Ideal for the home office, the streamlined, LED-powered light has an adjustable head to direct light where needed.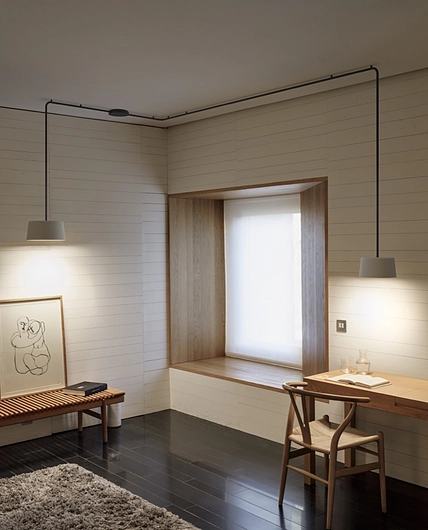 Also by Ichiro Iwasaki, the Tube pendant features a network of simple conduits that send light to different shades. The steel tubes snake across the ceiling and can connect to up to four LED-powered shades. The height of the diffusers can be adjusted above single or multiple desks.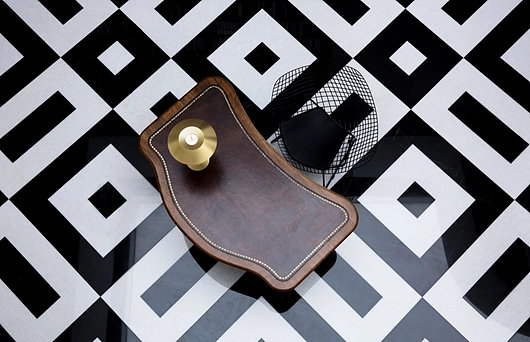 The Mayfair table lamp by Diego Fortunato is a modern reimagining of the 18th-century French bouillotte light, elegant and cutting-edge, its classic form and sleek steel structure give a polished presence, while an optical sensor conveniently activates dimming of the LED-powered lamp.

Focused Retreat
For projects needing short-term intense focus, a comfortable chair in a quiet space can provide room for relaxed concentration.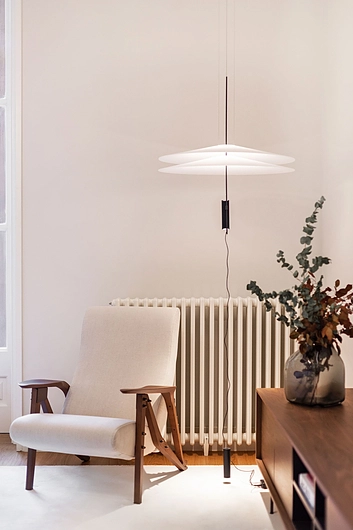 © Coblonal Interiorismo – © Sandra Rojo
The LED-powered Flamingo pendant goes excellently with sophisticated seating. Its design by Antoni Arola has a deconstructed quality that recalls its namesake bird, the ethereal form creates a striking focal point. Flamingo features a translucent diffuser that performs like a spotlight to give assistance with targeted illumination for studying files or analyzing statistics.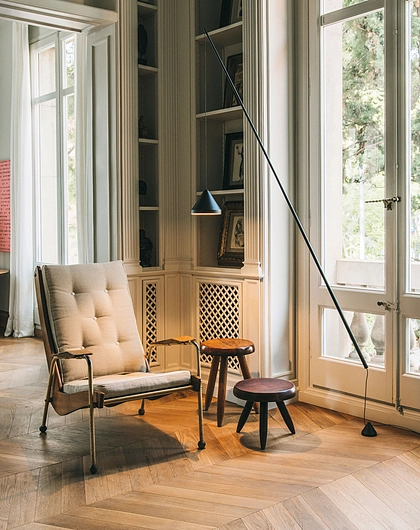 Arik Levy's North Floor pendant is an ideal light for a private nook. The combination of floor light and hanging lamp cleverly connects the floor and ceiling through three distinct components:
A triangular shade fitted with an LED-powered light
A slender stem
A counterweight positioned on the floor
This disconnected design enables light to be directed precisely where needed when plowing through power points.

Limited Space
In a full house, space can be difficult to come by forcing you to set up shop in an area that does double duty such as the dining room. Several Vibia fixtures accommodate this need.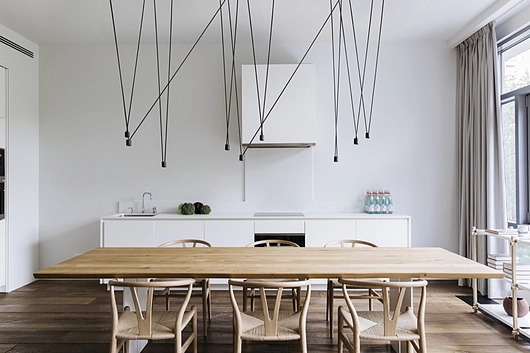 Match by Jordi Vilardell and Meritxell Vidal is made up of slim metal rods fitted with LED light terminals that create a geometric focal point. The fixture can be customized to for any space. It bathes the table below in ambient brightness and also offers fixed light points akin to individual table lamps for wherever you're seated.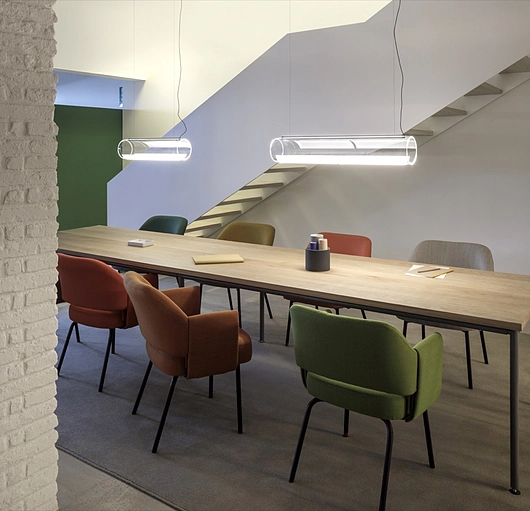 Designed by Stefan Diez, the Guise pendant elegantly illuminates a table. The horizontal hanging lamp is made from precision-cut crystal and embedded with a row of recessed LEDs. The light source appears invisible within the glass while the engraved surface radiates an intense glow that brightens the workspace below. A pair of Guise pendants can be used together to increase the radiant effect for a broader swath of light if several people are sharing the tablespace.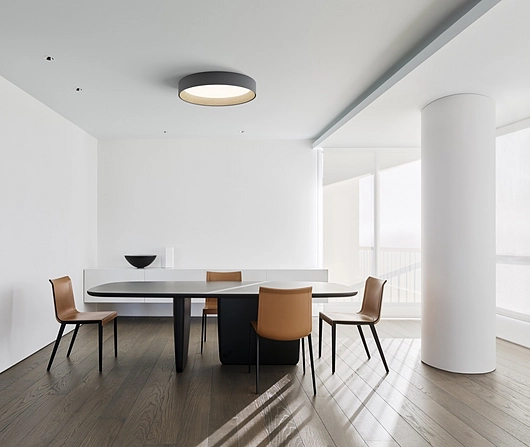 Duo by Ramos & Bassols is a ceiling light with a wood interior and a gently curved profile. It lends a relaxed, calming ambiance for creative thinking. The wood infuses the LED-powered light with a warm glow for long hours of reading, while an aluminum exterior ensures even distribution of light.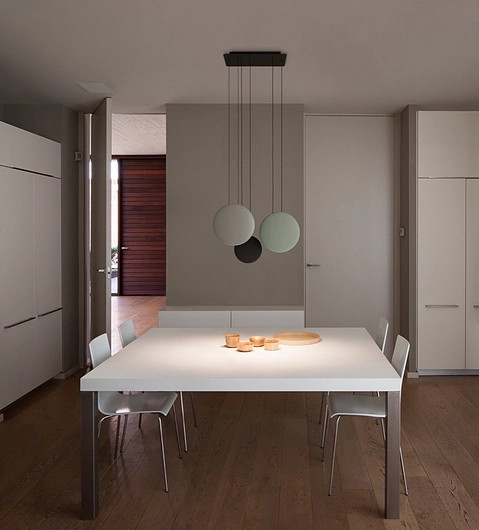 Cosmos light is a Lievore, Altherr, Molina design composed of flattened spheres suspended from slim cables. The minimalist, lacquered discs recall intergalactic forms floating in space, their simple silhouette and muted finishes lend an air of tranquility. LEDs are embedded within the opaque diffuser, seamlessly unifying the design and the light source and generating a soft glow.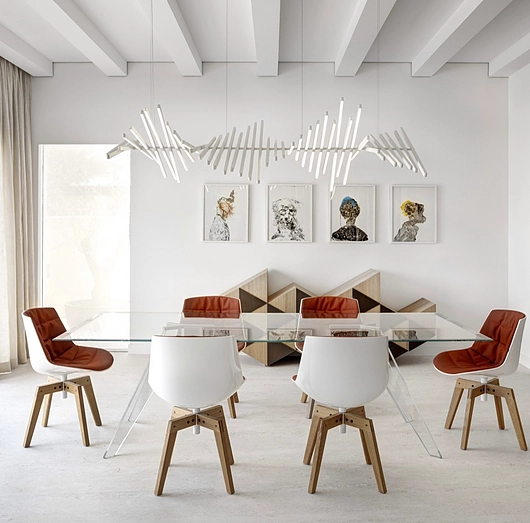 Evoking Zen minimalism, Rhythm lights by Arik Levy features slender light modules of varying lengths, each fitted with an LED module. The unique rotation system allows the light sticks to move along the axis and be positioned in any direction, providing ambient downward illumination and precision lighting along the span of a table.