ShadeFX is proud to be protecting Hollywood's 'A' listers from harmful and age-accelerating UV rays at the Historic Beverly Hills Hotel in Los Angeles. A total of fifty-one retractable canopies cover the Cabana Café and the Upper Pool Deck at this world-famous landmark. It's been said if you look hard enough, when the light is just right, you can see the shadow of Marilyn Monroe silhouetted in canopy twenty-seven.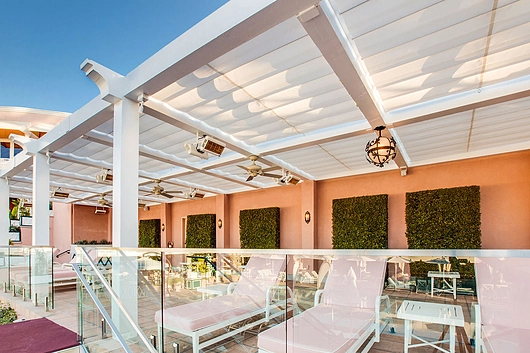 | | |
| --- | --- |
| Products | Retractable Canopies |
| Project Year | 2013 |
| Location | Beverly Hills, California, USA |
| Partners | Stanford Sign & Awning Inc. |
| Fabric | Sunbrella Firesist Ivory |
It's doubtful that illusion was planned for in the careful design and installation by Stanford Sign and Awning of San Diego. Their attention to detail resulted in canopies integrated into the existing pergola framework as if they were originally made for it. Notice the extremely short canopy drop, the frame matching gloss white paint of the mechanisms, and the long unsupported spans of the tracks. The 'slim' dimensions of these canopies made that possible.
It's an honor for ShadeFX to have a place among the stars in the land that dreams built thanks to Stanford Sign and Awning, and to the Beverly Hills Hotel who dreamt up what ShadeFX made real.