Lutron unveils software that coordinates and operates the system for the total handling of Quantum® lighting, which allows the control not only artificial or electrical light but also natural light or daylight, thanks to a modern system that allows the user to save costs and deliver comfort and quality to the spaces.
Quantum is a lighting control and energy management system that provides total light management by tying the most complete line of lighting controls, motorized window shades, digital ballasts and LED drivers, and sensors together under one software umbrella. Quantum is ideal for new construction or retrofit applications and can easily scale from a single area to a building, or to a campus with many buildings.
Costs
A typical commercial building of 4 650 m² spends about USD 45,000 a year on energy for lighting. Much of that money is wasted due to inefficient lighting control. By optimizing electric light and daylight, Quantum can reduce those costs by 60% or more, while also greatly improving the visual environment.
Systems
The Quantum system uses various software, each with a specific function and which together configure the complex system for control, comfort and energy savings.
These systems are:
Green Glance ™ software
Green Glance software offers a quick snapshot of your building's energy savings using the Quantum® total light management system. Building owners and facility managers can use Green Glance to motivate employees to save energy or to support their organizations' reputation for being sustainable and socially responsible. They can also use Green Glance as an educational tool to demonstrate the economic and environmental benefits of their
facilities when using Quantum, such as money saved, CO2 not emitted, or tons of coal that were consumed. In addition, they can use Green Glance software to display any other sustainable data related to their building such as details related to waste reduction programs or efficient water use systems.
Q-Manager ™ server
Is a computer that stores all the relevant information for reports and trends (light levels, sensor status, power consumption and more).
Q-Admin ™ software
The heart of the Quantum® solution is Q-Admin, the powerful software that allows facility managers to manage electric light and daylight to increase energy efficiency, comfort, and productivity. From a central location, a facility manager can not only control electric lights and curtains but also set up, monitor, analyze and report light throughout a building.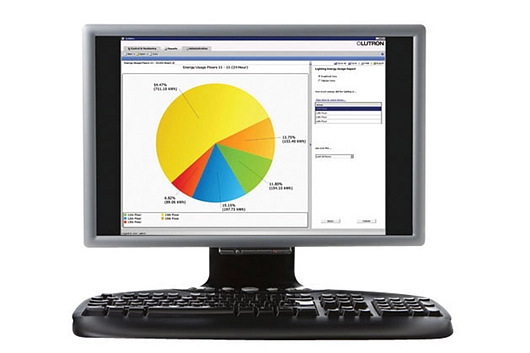 Highlights
Clocks
The Q-Admin™ software includes two types of clocks, a clock with the time of day (for example, 8 pm on weekdays) and an astronomical clock (for example, sunset or sunrise), which control the lights and curtains in the Quantum® network.
IntelliDemand load separation
It allows facility managers to separate a percentage of the system's lighting output to reduce energy costs in their facilities. This may result in lower electric rates. With the Q-Admin™ software, simply set the percentage reduction in the light level and instantly separate the load throughout your installation or in a particular space with respect to your current energy level.
Reports
It allows facility managers to improve maintenance and operations, identify complications before they become problems, and monitor lighting energy consumption throughout the building.
Calculate the use of energy in comparison
The Lutron Quantum solution generates highly accurate energy savings calculations that are based on system settings.
Reports include:
Use of lighting energy
System activity
Fluorescent lamp failures
Hyperion ™ System Adaptable to Automated Sun Blinds
Hyperion is a feature available for Quantum® that adjusts Sivoia QS shades throughout the day based on the position of the sun. This offers effective daylight illumination while reducing the heat and glare of the sun to increase the comfort and productivity of the building's occupants.
The curtains' precise adjustment schedules are developed by combining the information gathered on the building with the limits specified by the user on the penetration of sunlight and the amount of time between the movements of the curtains. In order to handle variations in weather conditions, it is also possible to program Hyperion to enter cloudy day mode.
Benefits
Solar variation according to the seasons
Comfort and productivity
Does not block the view outwards
Make the most of effective daylight
Cancellation on cloudy days
Lower costs of, energy saving


Summer: Curtains reduce the need to use the air conditioner to block and reflect solar heat, which results in a 10-30% reduction in heat absorption.
Winter: It is possible to program the curtains to close at night, adding insulation and reducing heating costs.
How it Works
June 21 | 11:00 a.m.
The curtains remain partially closed to block the annoying winter sun that has a low angle. The lights near the windows remain very bright to preserve the preferred light levels.
December 21 | 11:00 a.m.
Hyperion automatically puts the curtains to allow the useful light of day enter space. The lights near the windows dim to save energy.
Energi Savr Node
Connects wired and wireless lighting and areas with curtains in a space.
Sivoia® QS daylight controls
Curtains
Reduce sun glare and heat and increase comfort, productivity and energy savings without obstructing the view.
Electronic motorization unit
Ultra-quiet curtain control with precise alignment.
Controls for GRAFIK Eye® QS Scenes and Light Zones
GRAFIK Eye QS
Controls multiple curtains and lighting zones; Create light scenes at the touch of a button.
Wall keypads
Select your preferred light level and adjust the curtains silently at the touch of a button.
Radio Powr Savr® sensors
Presence sensor
Saves energy and increases convenience by automatically turning off lights when space is empty, and turning them on when space is occupied.
Photoelectric sensor
Saves energy by reducing the use of electric light based on the amount of daylight.
Quantum® hub and power panels
Quantum hub
Connects all components of the Quantum system.
QS smart power panel
Offers low voltage power for Sivoia® QS curtains and accessories.
Power panels
Ability to dim and remotely switch to all common light sources, including incandescent, fluorescent, LED, CFL, halogen and neon.
Enterprise Vue - for smart buildings and connected campuses
Manage data and operations for multiple Lutron lighting and shade control solutions.
A single data and management platform for your connected buildings.
The system interface delivers a simple, consistent user experience from any PC or tablet.
Open, easy integration with BACnet and web APIs leverages the IoT to enhance smart building performance.
Quantum Vue v3.4
Vue version 3.4 features make it even easier to address the most critical building concerns, keep people comfortable and improve operational efficiency. NEW tunable white to adjust and fine tune fixture lighting temperature.
Control & monitor lights from a graphical Floorplan
Having the right light based on an individual's personal needs can dramatically impact productivity. Quantum Vue 3.4, allows users to control, set levels for and tune individual lights from a graphical floor plan. They can also troubleshoot problems quickly by identifying fixtures that have raised alerts.
Space Utilization Reports
Quantum Vue 3.4's advanced analytics capabilities allow users to monitor how a building is being occupied and make smarter decisions on managing building real estate, scheduling building operations and much more.